Marketing Attribution: Smarter Ways to Follow the Money

In today's marketing world, driving business growth is job one. But pulling together the data and measuring success across all channels and touchpoints is tricky business.
Connecting the dots between digital and retail channels to create a unified picture of marketing measurement is crucial, but many CMOs don't have access to the right metrics to fuel their decision making.
In this new special report, discover how to use the right numbers to showcase marketing's worth to the C-suite.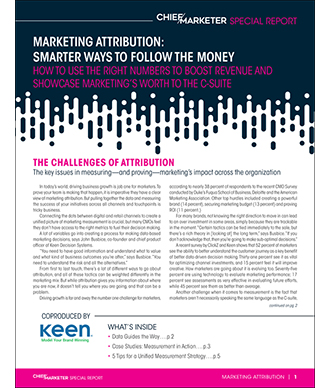 Learn:
The key issues in measuring marketing's impact across the organization
Ways to use data to drive decision making
How leading brands like Johnsonville Sausage, Vitafusion and Airheads are leveraging data to improve their marketing mix
Steps for creating a unified measurement strategy
Sponsored by: