Bridging the Gap: Interview with Nick Mason on Next-Gen Content Strategies
Most marketing content falls short when it comes to generating actionable insights for the sales team. In this piece, Nick Mason, Founder and CEO of content software company Turtl, shares his personal insights on an all-new research study, showing us how to leverage next-gen content and data strategies to bridge the divide between marketing and sales teams.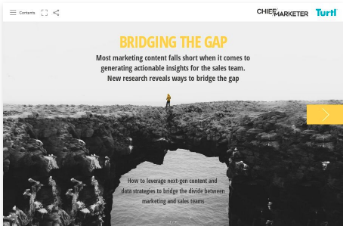 Report highlights:
Sales + Marketing: The Next Great Partnership
Changing the Perception
3 Ways to Make the Most of Your Content Strategy
Data Best Practices
Sponsored by:
Please click below to access the Special Report.