Bridging The Gap With Through-Channel Marketing Automation
In a time when localized marketing processes can serve as a company lifeline, TCMA technology distributes corporate marketing efforts with tools that enable integration, measurement and scale.
Marketers dependent upon local franchises, retailers and channels to drive revenue for their brands face a unique challenge: how to maximize sales in local markets with cohesive marketing campaigns at scale while still maintaining brand compliance. But the reality is this: local partners may not possess the marketing chops that are present at the corporate level. Enter through-channel marketing automation, or TCMA, which allows marketers to maximize performance through managing brand assets and localizing them efficiently.
Particularly during times of upheaval and recent business challenges brought on by COVID-19, local partners—and the sales opportunities they unlock through corporate marketing efforts—are critical to companies' ability to generate revenue. Forrester's TCMA Wave Report for Q2 2020, an analysis of 13 providers, ranks BrandMuscle's Integrated Local Marketing Platform at the top of the list.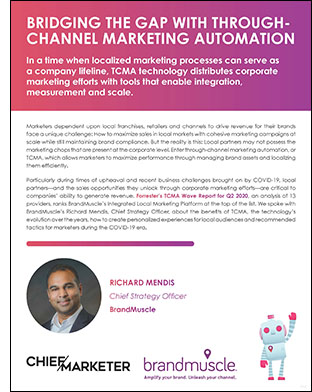 In this conversation with BrandMuscle's Richard Mendis, Chief Strategy Officer, you'll discover:
The benefits of TCMA
The technology's evolution over the years
How to create personalized experiences for local audiences
Recommended tactics for marketers during the COVID-19 era
Sponsored by: