ACCOUNT-BASED MARKETING: TIPS FOR HITTING YOUR BEST TARGETS

Learn how leading B2B brands are using ABM strategies to reach the right decision makers in key accounts to increase marketing ROI
Account-Based Marketing (ABM) isn't an entirely new approach, but the ways B2B companies can laser target their best prospects is constantly evolving. If you haven't heard the term before, ABM is an approach that centers on the objective, data-driven identification of high-value accounts, and engagement of buying committees within those accounts through coordinated marketing and sales efforts.
This isn't the "spray and pray" approach of sending out mass emails or digital ads designed to attract just anyone. Instead, ABM helps you home in on your target accounts and reach them with your message. Data has shown that 76 percent of your target accounts are unaware of your company and offerings.
Adopting an account-based approach means you're concentrating your efforts on specific companies who match your ideal customer profile and are demonstrating readiness to buy. All B2B companies can benefit from ABM, and it's not an out-of-reach strategy even if you're a small team with a tight budget. In fact, ABM helps small teams make the most out of every dollar they invest.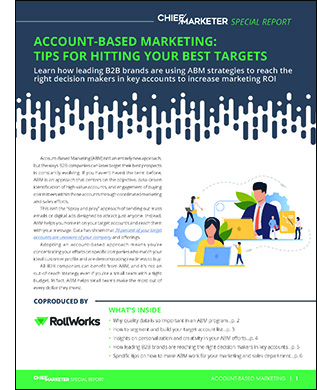 In this special report you will learn:
Why quality data is so important in an ABM program
How to personalize and be creative in your ABM efforts
How leading B2B brands are reaching the right decision makers in key accounts
Why ABM is effective in increasing marketing ROI
Specific tips on how to make ABM work for your marketing and sales department.
Coproduced by: