How to Leverage The Power of Personalization to Show Your Audience You Understand What They Really Need
If done right, personalization is a powerful tool for marketers. How can you avoid the "creep" factor and connect with your audience in a meaningful way?
In this Chief Marketer Special Report, learn how to leverage technology and data to create B2C and B2B campaigns that show your audience that you see them, you get them and you can give them what they need.
Discover: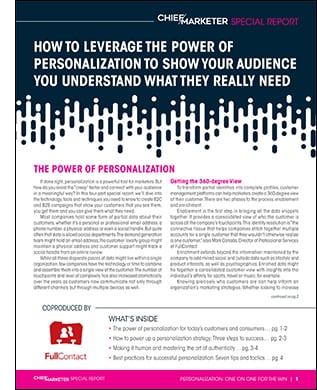 Why personalization is so critical for today's customers and consumers
Three ways to power up a personalization strategy
Ways to leverage data to create a successful messaging strategy
Best practices for successful personalization initiatives
Sponsored by: