Storytelling Through Video Puts Selling in the Background
We all know the numbers for video viewing are insane: billions! And we also know those numbers equate to marketers working hard to create engaging content and then distributing that content across multiple, effective channels. Video accounts for 64% of all web traffic, and is projected to reach 80% by 2019.
In this report, you will find:
An inside look at how Great Wolf Lodge added storytelling through video as a way to reach Millennials and Hispanics
Three social video best practices for digital-first brands
Lessons marketers can learn from TV broadcasters
Two steps to incorporate video across the buying cycle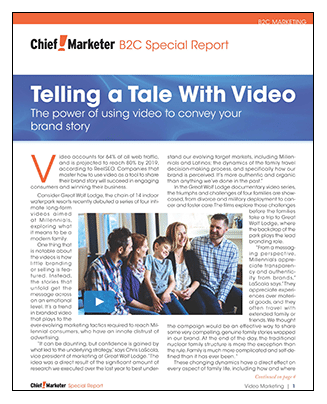 Thank you for downloading this report.
You may also find these reports of interest.