Creating Consistent Brand Experiences in Inconsistent Times

In the era of socially-distanced sales and marketing, smart document organization and automation can drive productivity, compliance and collaboration.
With marketing budgets on the line and many marketers racing to transform their portfolios into digital content generators, there's never been a more important time to organize and streamline your message—and your company's documents and assets. From critical contract language that has made dramatic shifts since COVID-19 to sensitivities around global markets, to sales and marketing teams working exclusively from home to persistent compliance issues, consistency has become the new imperative for marketing organizations hoping to survive—and thrive—in the current environment and beyond.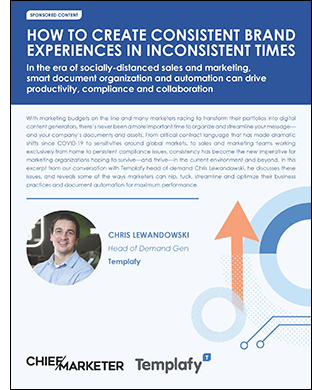 In this conversation with Templafy head of demand gen Chris Lewandowski, you'll learn how to:
Optimize and standardize content creation
Streamline automation for maximum performance
Identify common inefficiencies lurking in most marketing departments
Maintain consistent messaging and materials across cultures
Sponsored by: