Simply having B2B content isn't enough. To be successful, you need a plan.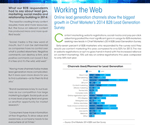 It's no surprise that online channels are showing the largest growth for B2B lead generation in 2014. Download this special report for our exclusive survey results and discover: The increasing role of social media for B2B lead gen How and why email continues to be an important lead gen tool What marketers see as their…
In this Chief Marketer Toolkit, discover ideas from the experts for improving your 2014 B2B marketing strategies in: Direct Mail Social Media Data and Analytics Lead Gen Content Marketing And More! Complete the form to download the full report.