Uber and Hershey Make Halloween Marketing Magic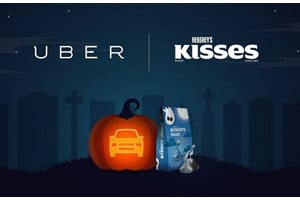 If you want to market your home as a key destination for trick-or-treaters on Halloween, it isn't difficult. Turn on the porch light, put a candle in a carved pumpkin, and you'll have no shortage of costumed beggars looking for candy.
But companies that want to connect their brand to October 31 in a meaningful way have to be a bit more creative. Not surprisingly, Halloween is a huge holiday for Hershey. Netimperative.com recently shared how Uber partnered with Hershey Kisses for a co-branded promotion last October on PromoDesceuntos, offering users a limited edition package of the treats.
It's a partnership that makes sense. Adults who have been out celebrating Halloween with something stronger than chocolate might need a ride home, so it's an excellent time to encourage use of the ride service.
Of course, Halloween isn't the only event on marketers' calendars in October. On PracticalEcommerce, Armando Roggio shares five content marketing ideas to consider this month. Halloween, not surprisingly, factors in two of the five, but another costumed character—a certain jolly old elf in a red suit—is on the horizon as well.
Wait…Christmas? Already? Yeah, yeah, I know marketers have been thinking about it since, well, last Dec. 25. But for those of us who haven't even bought a pumpkin yet, it's a scary prospect.
Related Articles:
The Psychology of Successfully Marketing to Millennials: Infographic
Wrigley/Mars' — Let the Boo'ing Begin
Tic Tac Digital Effort Wins PRO Awards Gold