Social Media Marketing is Like Fishing, You Never Know When You'll Get a Hit
Posting marketing messages and other content on social media is like fishing; you cast bait out into that vast, murky unknown and you just never know when you might get a hit. You wait … and wait … and wait.
But there may be more order to marketing on social media than meets the eye.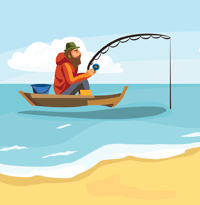 A new infographic from Quicksprout seems to make some sense of it all. For example, when marketing on Facebook, posting at the end of the week—Thursdays and Fridays—will deliver more engagement. This stat is backed by the theory that "the less people want to be at work, the more they are on Facebook." Or, in layman's terms, "Hey, the weekend is closing in. Let's see what the friends are up to."
But if you're tweeting those marketing messages out, weekends and Wednesdays are your best bet.
The data on this latest infographic corroborated with data from TrackMaven, which tracked millions of social posts from the full-year 2016 from more than 17,000 brands across the globe to understand the best times of day and days to post. This study also found that social posts toward the end of the week performed best, not only on Facebook, but also on Twitter and Instagram.
Even so, there is no one-size fits all method as to when to post on social media. Reeling in true social media success requires lots of testing and the painstaking documentation of the results to find that sweet spot. So cast out that bait and take a good look at what comes back. You don't want to let that big one get away.
Related articles:
Social Media Most Used Channel to Activate Sponsorships: Report