Social Fans Rewarded with Bags of Weed
There's no question that Cannabis fans are jubilant in states that have legalized recreational and medical marijuana use.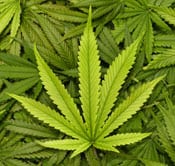 I was in Boston a few weekends ago visiting my nephew, who attends college there. Massachusetts is one of the states where marijuana is legal for both medical and recreational use. We experienced the effects of the new law as soon as the elevator door opened on to the floor of our hotel room. The hallway was filled with the aroma of marijuana. If we lingered long enough we'd likely have gotten stoned. A day later we were driving around and could see people smoking weed on their porches, seemingly enjoying an unusually warm spring day.
People are celebrating in California too. April 20 is a special day for the Cannabis community, explained as its most culturally cherished day. To mark the occasion, the founder and CEO of Cannabis brand Advanced Nutrients, Michael "BigMike" Straumietis, surprised three of his social media fans with an ounce of King Moses OG and a bag full of branded swag. He made the delivery himself at each of the fans' homes causing quite a stir on his Cannabis-themed Instagram account @BigMike that has 1 million-plus followers.
BigMike, apparently known as a Cannabis CEO celebrity, also invited the three to a July 4th BBQ Malibu Beach Party that many of his followers would surely hope to be invited to.
It's the new reality and Cannabis marketers are joining the ranks of other smart marketers who are tapping social media and promotion marketing to surprise and delight followers and customers to build brand loyalty and sales.
Related articles:
Ad Companies for Cannabis Sprout Up