Self-Checkout Hurts Impulse Buys so Hershey Innovates Digitally
When out shopping, I'm the first to run to the self-checkout line to get out of the store as fast as I can.
Apparently, my checkout plot is also now that of many others—as witnessed by the sometimes long lines—because now 60 percent of purchases are made at self-checkouts and another 10-15 percent are done on mobile, Digiday reports.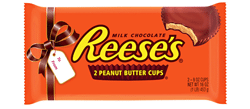 That brings me to Hershey, a company that rings up plenty of cash as people stand on those standard checkout lines surrounded by an inviting array of racks of impulse buys: gum, M&Ms and Hershey's own Reese's Peanut Butter Cups—my fav—among numerous other items that get tossed into shopping carts and grabbed by kids at the last minute. But as people move to self-checkout, those sales flag.
Hershey is not standing idly by, it is testing, strategizing, brain storming and taking innovative steps to recapture some of those dollars online, as likely other brands are as well.
"E-commerce is a single-digit yet growing business for Hershey, according to its quarterly earnings report in July. Re-creating that unplanned purchase online is not easy," according to Digiday.
Digiday says this is where virtual reality comes in for Hershey. At the Hershey Innovation Center, it is testing the use of VR through retailers' shopping apps. In one scenario, the VR users would view different brands in everyday environments like a bedroom or living room. When the viewer looks around the room, they would also come across Hershey items like a Reese's Peanut Butter Cup, triggering—hopefully—an impulse buy.
Hershey has a number of other ideas up its sleeve, including seasonal isles on grocery chain websites and digital reminders as explained by Brian Kavanagh, senior director of retail evolution for Hershey.
Brands like Hershey are pioneers in chasing consumers who are switching up buying and behavioral patterns and habits with amazing speed. Hershey will test, stumble, re-test and try again until it comes up with something that works.
So, yes, while I may be avoiding the standard checkout line, Hershey will likely find me in the digital world to remind me to purchase my favorite candy cups. In the meantime, the cafeteria here in my office has a rack next to its cash register filled with goodies, including Reese's Peanut Butter Cups!
Related articles:
Uber and Hershey Make Halloween Marketing Magic