Pantone Teams With TBS for Team Coco Orange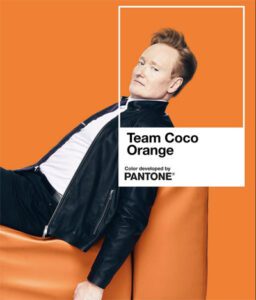 Some people might celebrate by painting the town red. For Conan O'Brien, orange is the color of choice, as in Team Coco Orange, the new official Pantone color created to celebrate the return of his TBS late night show.
"Conan" relaunches this week in a revamped 30-minute format. The host isn't the first celebrity with a his own hue—the Pantone Color Institute has previously created a custom blue for Jay Z and honored Prince with "Love Symbol #2," a shade of—obviously—purple.
The signature color is featured in branding for the show, including art displays in Manhattan and Los Angeles. Team Coco Orange covered more than 25,000 square feet in New York City's West Village and city buses. In Los Angeles, a massive, fabricated TEAM COCO ♥ LA billboard with more than 1,000 light bulbs illuminated the downtown area last week.
"This custom Pantone color in many ways solidifies the iconic imagery created by fans and the endless catalog of fan art," says Michael Engleman, CMO for TBS and TNT. "I don't know of any other television personality that can be so easily identified by something as simple as a color."
---
You May Also Enjoy:
---
TBS is also engaging fans on TeamCoco.com, encouraging them to sign up and officially join #TeamCoco for the chance to win daily orange prizes like a jacket or a bike, and get access to perks like tickets and exclusive merchandise. Fans who have entered contests like the popular sweepstakes for exclusive "Conan" Funko Pops during the show's annual run of shows at Comic-Con International were sent emails this week welcoming them to Team Coco.
To keep the Team Coco brand in the public eye while the show was off the air for a few months, O'Brien went on a comedy tour around the country and launched a podcast, "Conan O'Brien Needs a Friend." The first episode of the retooled "Conan" airs tonight with guest Tom Hanks, who gave O'Brien the nickname Coco back when he hosted "The Tonight Show," a moniker fans were quick to adopt in social media.