NASCAR Driver Asks: Where are the Tampon Sponsors ?
When a female NASCAR driver says its time for a tampon to be emblazoned on the side of a race car, it's curious why female-focused brands aren't stepping up.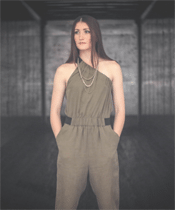 NASCAR has an almost 40% female fan base and is the second most watched sport, Julia Landauer of Julia Landauer Racing Racing said to Maggie Gray of SI Now during a Fortune event this week.
"That's a huge group of women that are not being marketed to," she says.
Add to that that the fact that the percentage of female drivers is growing and you wonder if there's a missed opportunity for marketers.
"There's a lot of opportunities there," Landauer says. "Whether its from a makeup side, a feminine hygiene side, hair care products…there's so much there that they can tap into. NASCAR has the most brand loyal fans out there. That's what we're trying to shift."
Now I'm not pitching for NASCAR sponsors, but when you look at some of the stats around female NASCAR fans they truly are a passionate, loyal fan base that brings along plenty of others to enjoy the sport. It makes you question why the brands and products that target women aren't on the track.
According to consumer intelligence company Simmons:
• Female fans are 47% less likely watch or follow NASCAR by themselves than male fans. Instead, they choose to watch with others: 46% with their spouses/significant others; 22% with friends; and 13% with their kids.
• Female fans are likely to follow NASCAR on a variety of social media platforms, including Facebook (19%), Twitter (7%) and Instagram (5%).
• Female fans are likely to watch races on their mobile devices (8%); get season updates on their social media pages (8%); and get season updates online (9%).
After watching the video of the conversation, I wondered if any female-type brands are sponsors.
I discovered a few categories of NASCAR sponsors that certainly would be of interest to women, like candy, alcoholic and non-alcoholic beverages, airlines and dental plans. But there don't appear to be any truly female-targeted sponsors from the categories that Landauer mentioned: makeup, feminine hygiene, hair care or apparel companies and the like.
To punctuate her point, she added that the time has come to green flag a tampon on the side of a race car. Now that would be progress.
Listen in on what Landauer had to say.
Related articles:
NASCAR Drives Relationships for B2B Sponsors
Social Media Most Used Channel to Activate Sponsorships: Report