MAC Cosmetics Celebrates 25 Years of Pride Support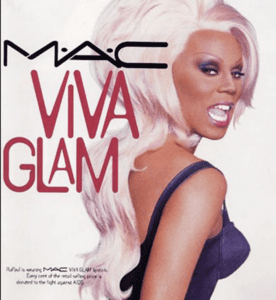 In the last few decades, many brands have stepped up in support of LGBTQ causes. MAC Cosmetics is a longtime supporter of gay pride, with over two decades of Viva Glam in its make-up bag.
At INBOUND in Boston last week, Andrea Flynn, vice president of global corporate citizenship and sustainability at MAC talked about how corporate social responsibility was "baked into the MAC DNA."
MAC launched Viva Glam at a time when the cosmetics industry was focused on traditional beauty. To clear up any doubt that the initiative was anything but traditional and boring, in 1994 Ru Paul was chosen as the first spokesperson for the campaign, which would benefit the MAC AIDs Fund. To date, over $480 million has been raised to make a difference in the lives of those in the HIV/AIDs community.
Making sure your brand has a true deep commitment to purpose is crucial in today's world, as more and more consumers—particularly Millennials and Gen Z—want to shop from brands that are committed to social causes.
"There has never been a better time for purpose," says Flynn. Take action and stand behind social causes—but remember that purpose should flow from the bottom up. It needs to be deeply embedded in the company."
---
You May Also Enjoy:
---
A key lesson when it comes to cause marketing is that not everyone will agree with you, says Flynn. MAC has gotten criticism for many of its initiatives, from choosing Ru Paul to kick off Viva Glam, to a more recent collaboration with Caitlyn Jenner.
"Not everyone will agree with you, but you will create a cadre of advocates," she says. "Don't be afraid to take action and stand up behind the work you do."
When asked about the recent Nike campaign featuring Colin Kaepernick, she noted that sometimes the controversy that results from socially motivated moves might be more than a brand expected.
"You have to stay true to who you are as a brand," she says. "Play the long game and stand by what you've always stood for."