It was a Tough Chip to Swallow—KFC's Fries are Soggy and Cold Customers Cried
They call them "chips" across the pond—or French fries if you reside stateside. Whatever you call them, KFC fans in the UK are excited about a big recipe change.
But the change was a longtime coming and a painful revelation for KFC UK. However, as the brand does, it heard the outcry, took it to heart—and its kitchen—and responded with its British-style sense of humor.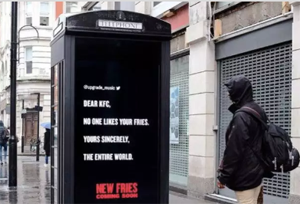 It all began with a rather brutal August 2014 tweet from @charliejburnessie that read, "I've got to say, KFC are riding solely on their chicken because Christ, those are crap fries." And there were plenty of other tweets like this daunting one by @upgrade_music, "Dear KFC, No one likes your fries. Yours sincerely, the entire world."
In turn, KFC began work on a new recipe and this week, "promised the new chips will be thicker, crispier, taller, rustic fries with the skin left on so they are better for dipping in ketchup," EssexLive News reported.
To alert all the haters, KFC made what can only be called a clever move. KFC UK & Ireland paid to promote Charlie Burnessie's 2014 tweet across social and on bus shelters with the message, "You told us no one liked our fries. So new ones are coming soon. Yours sincerely, KFC."
Jack Hinchliffe, innovation director at KFC UK & Ireland, told EssexLive News: "We don't change things on a whim—the Colonel's Original Recipe chicken hasn't changed since he finalized it in 1940. This was different though. We heard the nation's outcry. We read the brutal tweets."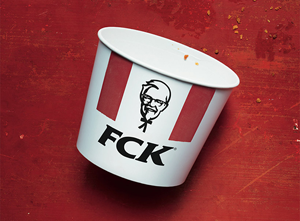 Excitement erupted across western Europe from Belfast to Yorkshire to London. Twitter lite up and news sites covered the announcement of the new fries.
KFC UK has a plucky sense of humor, as we can see from this campaign, but also from an earlier one. It was forced to close down a bunch of restaurants after a chicken shortage hit. Customers were showing up at restaurants only to find them closed. KFC quickly rans ads that rearranged the letters of its name to spell out "FCK" on a chicken bucket, with text below that read, "We're sorry."