Is Your B2B Audience Ready for Memes?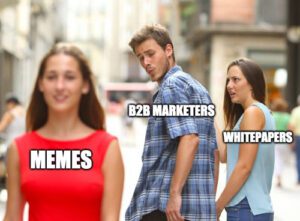 Are memes appropriate for B2B marketing? It all depends on who you're targeting.
If your brand is out to reach a super serious demographic like financial professionals or attorneys, maybe the "distracted boyfriend" or "Kermit the Frog sipping tea" memes are best left to someone else. But, as Kaya Ismail writes on CMSWire, if your audience is open to humor, memes might have a place in your creative strategy.
The appeal of memes is obvious. Younger professionals consume more media than their more mature coworkers, but they deliberately stay away from anything that feels like advertising. Using memes to inject a lighter tone into social posts and other communications can help draw these prospects into the fold.
For the uninitiated, a meme is an image or photo well-known in pop-culture, with a caption that is often completely unrelated to the visual. It's a bit of cultural shorthand, and typically, not everyone will get the joke, often making it even funnier to those in the know who do understand the context.
Memes are "a massive part of the digital experience, particularly for millennials and Generation Z," making them something that forward-thinking B2B brands should not ignore, says Deepak Shukla, SEO director at Pearl Lemon.
---
You May Also Enjoy:
---
"Brands can edit and leverage these memes to get involved in the comedy while simultaneously drawing attention to their brand, service or product," says Shukla.
Some B2B audiences are more open to the idea of humor than others. Sean Pour, co-founder of cash-for-cars marketplace SellMax, told CMSWire his company has used memes to get tow truck companies to on-board with the company.
"For us, we knew that tow truck drivers have a more relaxed working environment, so we wanted to make them laugh and get [their] attention," Pour says.
But, as Shukla notes, remember to stay on top of trends. Memes can have a very short shelf life, so make sure you target your campaign quickly before customers move on to the next big thing.