Is Your Agency Charitable? You Could Win a 2016 PRO Award!
In reviewing all the Top Shops applications we received for the 2016 list, there was a common thread among many of the agencies—charity work. The work often involved employees or the agency gave employees paid time off to volunteer for something they themselves thought was important.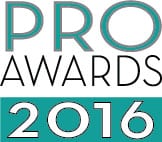 The stories were inspirational and inspired us to create a new 2016 PRO Awards category: Best Charitable Company. It's a bit out of the norm. We typically only honor amazing campaign work but we thought it important to bring to the forefront all the volunteer work being done behind the scenes at agencies. Does your agency fit the description:
"This recognition will go to the company or agency offering the most creative charitable challenges to its employees. For example, it pays employees to take time off to do charity work or volunteers as a team in the community or in some way. The winning company will be honored at PROMONext: Leaders in Promotional Marketing Conference and the PRO Awards Gala on June 14 in New York City. As a reward for your good deeds—in addition to bragging rights—the Chief Marketer staff will volunteer for two days at a charity of the winner's choice."
So, go ahead, show us your charitable chops and win a 2016 PRO Award along the way!