Holiday Catalog Watch Week 4: Reruns and Retailers
Week 2: Lots of Kids and Candy
Week 3: Hilfiger's Naughty List
This week's theme seems to be reruns, with repeat catalogs from Stonewall Kitchen (two copies of the same catalog, both with the same incorrect spelling of my last name), two from L.L. Bean, one from Lands' End, one from Toys to Grow on, one from Lakeshore , one from Godiva and one from Harry & David. The latter two are repeat mailings of the exact same books received in prior weeks.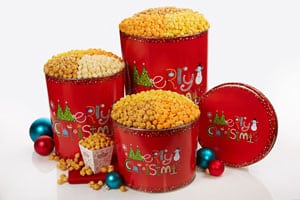 Of the remaining four catalogs received last week, only one doesn't have physical retail store. That distinction goes to the Popcorn Factory, which offers a 25% off any order discount code. The layout is clean and attractive and makes those big old buckets of popcorn look mighty appealing to a holiday shopper desperate for a quick, fun gift.
The three retailer/catalogers who hit my mailbox last week were Journeys, Pier 1 Imports and Victoria's Secret.
Journeys and Pier 1 both included shoutouts to the nearest physical location. Victoria's didn't but that can be forgiven, especially if the back cover model was the one writing the copy. The poor dear was wearing a lovely sweater, but forgot to put on pants—how on earth would she be expected to remember catalog copy if she can't get dressed properly?
As for special offers, Journeys had the most catalog/retail synergy, with peel off cards good for $10 off a $50 or more purchase or $5 off a $25 or more purchase, in-store or online. Pier 1 shoppers with their Rewards credit card could get a 10% discount, while Victoria's shoppers got free two day express shipping if they spent $100 or more.
Have you gotten any great holiday catalogs? Let me know at [email protected] or @CMBethNegus.