Fright or Flight: JetBlue Becomes JetBoo for Halloween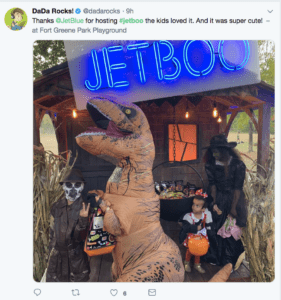 JetBlue embraced the spirit of the season on Wednesday, transforming into JetBoo to give out full-size candy treats for Halloween.
The airline set up JetBoo houses at key locations in three cities from 3 pm to 8 pm on October 31: in Boston at the corner of Beacon and Charles Streets, near Boston Common; at the corner of Dekalb and Washington Park at Fort Green Park in Brooklyn; and at 1500 NE 5th Avenue at Lake Wyman Park in Boca Raton, FL.
Available candy included Hershey's Milk Chocolate Bars, KitKat, Twizzlers, Junior Mints, Sour Patch Kids, Swedish Fish, Dots and Skittles. (JetBlue is a peanut free airline, so trick or treaters will have to get their Snickers fix elsewhere.)
On over 900 flights this Wednesday, over 100,000 full-size Twizzlers and Starburst were also be given away during snack service.
Costumes were encouraged at the JetBoo houses but not required and there was no age limit—both the young and the young at heart were welcome.
---
You May Also Enjoy:
---
Earlier this month, JetBlue began their autumn celebrations with "Now Leafing Boston," a sweepstakes where residents of the Greater Boston area could win the chance to have their yards—and those of up to 50 of their neighbors—raked of pesky fall leaves.