Emails We Love: Anthro's Surprise, Dunkin's Clunker
This time out we examine two examples of email personalization. One cleverly hit the mark, while the other, well, not so much.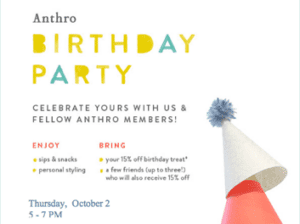 I received an email from Anthropolgie's Anthro loyalty program with the subject line "Boston, we're throwing you a birthday party! (No, really!)" The email wasn't personalized by name, but it was personalized to folks celebrating October birthdays.
Inside, I was invited to celebrate my birthday with fellow Anthro members at the Boston Anthropologie store, where I would get snacks, personal styling and a 15% birthday discount (soon to come in a separate email).
Clearly, it isn't a party just for me. (At least I hope it isn't, because I'm not available that night.) But the email makes it feel like they're thinking of me, and that creates engagement and a good feeling for the brand.
Dunkin' Donuts, however, didn't quite get it right with their personalized message to me this week. I was already feeling positive about Dunkin', thanks to their generously giving out free coffee at Hubspot's Inbound conference earlier in the week.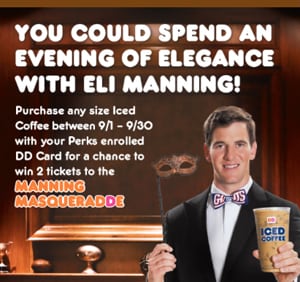 But those positive vibes didn't really make me feel responsive to the subject line "Carin, You Could Meet Eli Manning!" For one thing, I live in Massachusetts (where Dunkin' is based, by the way) so the Giants aren't my team of choice. I have pretty much no affinity for football, but of course I'm going to root for the Patriots. And for another thing, last time I checked my name wasn't Carin. Whoops.
Still, mmmm…donuts. Now Homer Simpson—there's someone I'd like to meet.
Seen any emails you love this week? Let me know at [email protected] or @CMBethNegus.