LeadsCon CTC Faculty Tells All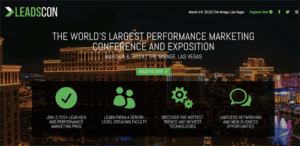 Before the show in Boston last fall, members of the LeadsCon Connect to Convert faculty sat down with Chief Marketer to chat about their top B2B marketing challenges and opportunities.
Q&A: Using Data to Power Human Connections
Kim Weisensee Brown of GE Renewable Energy and Centrally Human LLC discusses the role data and technology plays in shaping relationships with consumers.
Q&A: Kinney on Guiding the Customer Journey
Chief Marketer recently chatted with "A Shark's Perspective's" Kenneth Kinney to get his perspective on where brands can improve when it comes to data, social media and content marketing.
Direct Mail is About Data, Not Being Pretty
Direct mail may not be the newest trick in the B2B marketing arsenal, but when used properly, it can be one of the most effective, says Gordon Brott of OnDeck.
---
For the latest in lead performance marketing and lead generation, attend LeadsCon Las Vegas, March 4-6, 2019 at The Mirage.
---
Filling the Glass: Lord Hobo Brewing Creates New B2B Content Strategy
Unlike many B2B marketers, James Furbush of Lord Hobo Brewing has one clear metric to watch when tracking ROI: Are we selling more beer?
Break Down the Walls Between B2B Sales and Marketing
Jim McKinley of (un)Common Logic shares ideas on how B2B sales and marketing teams can communicate more effectively.
First Data Focuses on Employee Engagement to Promote Money Network
A multichannel content marketing campaign for a large retail customer helped First Data encourage employee use of its Money Network payroll solution. Euphemia Erikson of First Data and Mike Neumeier of Arketi Group give us the scoop.
Connecting Employees With the Brand Helps Fuel Grant Thornton
Getting employees invested in its branding strategy has been a crucial part of the success of Grant Thornton's "Status Go" campaign. John Harmeling shares how it works.
Customize Your B2B Approach for Better Engagement
Responsory's Grant Johnson reminds B2B marketers that not everyone is their ideal target audience.
Human Element Can Help Align Sales and Marketing
Sales development reps have an important new role in the B2B sales process, as the human element bridging sales and marketing. Jen Spencer of SmartBug Media shares how.
***This updated article was orginally published in October 2018.***