CMOs Flock to Cannes to See What the Future Holds
I've always wanted to go to the Cannes Lions International Festival of Creativity, which begins Saturday, but I haven't made it there yet: too busy, this conflict or that conflict.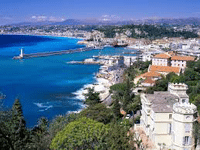 It's a chance to see some of the best marketing and advertising creative work from across the globe in 24 categories. Is also a chance to network with hundreds of CMOs, ad agencies and tech companies. Phil Thomas is the festival's CEO and he spoke with CMO.com about why CMOs flock to the event. Sure there's the beautiful weather, the food and beaches, but Thomas has many other insights.
To its attendees, Cannes showcases exceptional creative ideas that move businesses in the right direction. Among an astounding 43,000 entries, the cream of the crop rise to the top. As the awards get underway, fingers are crossed and hopeful creatives dream of hearing their entries announced and seeing their work on the big screen as among the most prestigious.
There are also 600 speakers and 13 stages with big draws like Gweyneth Paltrow, Anna Wintour and Oliver Stone. In the Q&A, Thomas explains how the festival evolved from ad agencies attending in fits and starts to the huge  phenomena it is today that draws marketers and agencies from across the globe. He goes on to discuss brand purpose, the launch of Lion's Entertainment, innovation, data, technology and measurement, and how he truly doesn't know what's going to happen next.
Yes, I will get to Cannes. Maybe next year.