Can Ivanka Trump's Brand Recover?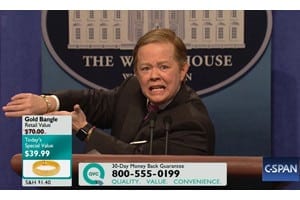 There's an old saying about "all press being good press." Somehow, I don't think Ivanka Trump feels that way these days.
Burlington Coat Factory is the latest retailer to drop the clothing line of the businesswoman and First Daughter.
Public opinion about decisions made during her father's first few weeks in office is no doubt a factor, but numerous reports note that sales of Ivanka's products have been steadily declining. Although President Trump described Nordstrom's decision to drop Ivanka's line as "unfair," sales of her brand at the luxury retailer were down 70% in the weeks leading up to the election, compared to the same period in 2015.
The marriage of celebrities and brands has always been fraught with potential peril. As Grant Johnson wrote a few years ago, the celebrity endorsement that translates into a sales bonanza for a brand is the exception—and not the rule. Of course, as in Ivanka's case, if the celebrity is the brand, getting a divorce is a tad more tricky.
A better approach in today's economy is utilizing online micro influencers—regular Janes and Joes with significant followings—to become the mouthpiece for your brand or campaign. Consumers tend to have more trust for these individuals than they do for mega stars who live in rarefied air, and they're much less likely to become involved in an international scandal.
No matter how hard she tries—and would anyone ever really expect her to—Ivanka Trump will never be a "Regular Jane." So where does her brand go from here, beyond being fodder for late night comedy?
It's hard to say. As Sarah Halzack of the Washington Post noted, the typical Nordstrom buyer may have given the Ivanka brand a try in the past because they trusted Nordstrom's choice to carry it. Now, the shopper probably just doesn't want to be bothered owning it—especially when similar items can be had from other fashion brands that don't come with political baggage.
I don't think I'd personally be inclined to purchase an Ivanka branded item. But it's only out of jealously: I could never rock the pumps as well as Sean Spicer.
Related Articles:
The Art of Authenticity in Branding
The Difference Between Brand Experience, Experential and Events
Choosing the Right Agency to Tell Your Brand Story—7 Questions to Ask