6 Must-Have Apps/Tools for Every Marketer
Apps do all kinds of things that make our daily lives a bit easier: track our steps, shine a flashlight in the dark, keep us up-to-date in Facebook or open a mirror to touch up our lipstick. And, as we know, apps can also help us at work.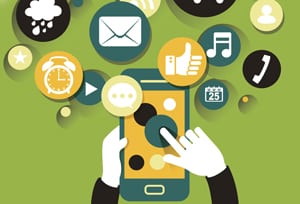 The Content Marketing Institute shared its top picks.  Here's six timesaving apps and tools that marketers can put to good use—and our spin on how they will benefit you.
1. MotoRead—With this app you can speed listen to articles. You can listen to blogs and news articles on your way to work so you're up to speed before you even get to your desk. You can save content to your playlist from other apps on your phone including Techcrunch, Google News, Digg, Evernote and Safari/Chrome mobile browsers. And, you can even change the voice.
2. Apple Messages—Messages is the text-messaging software included with your Mac. With Messages for Mac, you can send unlimited messages to any Mac, iPhone, iPad or iPod touch that uses iMessage. It also supports several other messaging services that work with Apple and non-Apple devices. iPhone owners can use it for SMS and MMS messages, too.
---
More on Mobile Apps:
---
3. Evernote—If you're one of those types with post-it notes covering your desk (like I was) this app is a super organizer. Evernote is a timesaving app designed for note taking, organizing, tasks lists and archiving. You can use the app on your desktop and/or mobile. I make lists of everything from notes for business meetings, notes during meetings, the day's/week's "to-do" list, content and webinar ideas. The app is a great way to get organized, work smarter and remember everything.
4. Bit.ly—As many marketers do, we push content across our social channels, newsletters, website and beyond and we want to know what's working and what's not. I use Bit.ly, which converts those long URLs to unique short ones you can also pack into tweets to track URLs across the various platforms.
5. TripIt—Like the name suggests, TripIt helps you travel smarter. The app organizes your travel plans in one place. Finds alternative flights. Sends real-time alerts. Snags the best seat and other helpful travel services.
6. Lumen5— is a social video creation platform that turns blog posts into social videos using artificial intelligence. Simply enter the blog post URL and Lumen5 summarizes the content, matching each scene with relevant royalty-free photos, video, and music (or you can upload your own), the Content Marketing Institute says.