2015 PRO Awards Finalists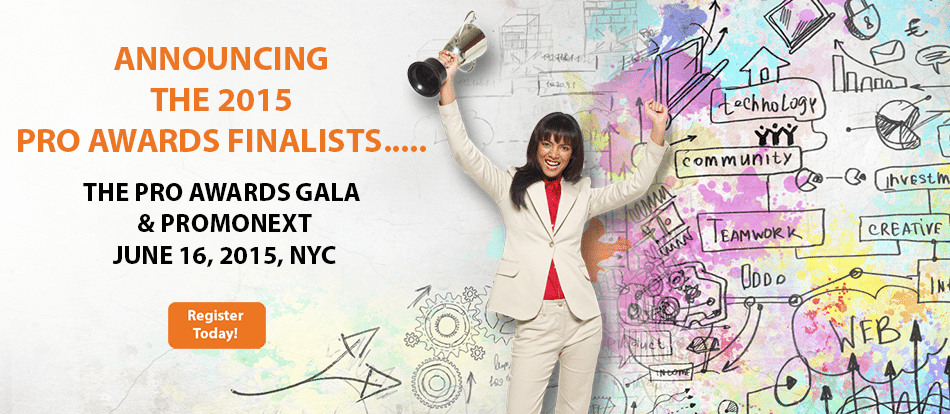 Best Age-Targeted Campaign

Kid Cuisine's Augmented Reality

AGENCY: Epsilon

CLIENT: ConAgra Foods

Kids vs. Pros


AGENCY: Catapult

CLIENT: Capri Sun

The SpongeBob Movie: Sponge Out of Water

AGENCY: Nickelodeon

CLIENT: Paramount

#UpforWhatever Weekend

AGENCY: Mosaic (USA)

CLIENT: Bud Light

Best B2B Campaign

Nationwide Selling Season


AGENCY: Wilde Agency

CLIENT: Nationwide

The Bosch Xperience


AGENCY: FUSION Marketing

CLIENT: Bosch

Before It's Too Late

AGENCY: Cars.com

CLIENT: B2B Brand

Know Your IBM

AGENCY: Motivforce Marketing & Incentives Limited

CLIENT: IBM

Best Brand Awareness Campaign

Share A CokeTour 2014

AGENCY: Momentum Worldwide

CLIENT: Coca-Cola

Ghostbusters 30th Anniversary

AGENCY: Sony Pictures Home Entertainment

CLIENT: Ghostbusters

#UpforWhatever Weekend

AGENCY: Mosaic (USA)

CLIENT: Bud Light

Vodafone New Year's Eve

AGENCY: Wasserman

CLIENT: Vodafone
Best Buzz

Arby's Meat Mountain

AGENCY: Alcone

CLIENT: Arby's

On the Set with Vikings at Comic-Con

AGENCY: Civic Entertainment Group

CLIENT: HISTORY

The Forum Record

AGENCY: Pop2Life

CLIENT: The Madison Square Garden Company

AGENCY: TPN

CLIENT: 7-Eleven

Best Campaign on a Budget (under $250,000)

Goya By Numbers

AGENCY: Arnold Worldwide

CLIENT: Santander

Atari

AGENCY: Erwin Penland

CLIENT: Denny's

Mike's Millionth Fan

AGENCY: Trisect

CLIENT: Mike's Hard Lemonade

Pepsi Throwback Challenge

AGENCY: PGW Experience

CLIENT: Pepsi

Best Cause-Based Campaign

100 Years Of Good

AGENCY: Pivot Point Marketing

CLIENT: Chicken of the Sea

ComEd Icebox Derby

AGENCY: agencyEA/Leo Burnett

CLIENT: ComEd

Built Ford Tough Good Works

AGENCY: Team Detroit, Inc.

CLIENT: Ford Motor Company

Agentes de Cambio (Agents of Change)

AGENCY: Viacom International Media Networks

CLIENT: Nickelodeon Agentes De Cambio & Kellogg's Choco Krispis
Best Cross-Channel Campaign

Cottonelle "Talk it Out 2.0"

AGENCY: Trisect

CLIENT: Kimberly-Clark, Cottonelle

Storybox Featuring Disney Parks

AGENCY: The Integer Group

CLIENT: Kellogg's

The Biggest 7th Inning Stretch

AGENCY: Jack Morton Worldwide

CLIENT: T-Mobile

Mikehacks

AGENCY: Trisect

CLIENT: Mike's Hard Lemonade

Scott Naturals "Toss the Tube"

AGENCY: Trisect

CLIENT: Kimberly-Clark, Scott Naturals Tube-Free Bath Tissue.

Best Entertainment Sponsorship or Tie-In

Interstellar and Google Promotion

AGENCY: Paramount Pictures

CLIENT: Interstellar

Get in the Mix with NE-YO: The Intel Experience

AGENCY: Arc Worldwide/Leo Burnett Chicago

CLIENT: Intel Corporation

Ones To Watch With Skype

AGENCY: Live Nation Entertainment

CLIENT: Skype

Central Perk

AGENCY: Source Marketing

CLIENT: Eight O'Clock Coffee.

Best Holiday-Themed Campaign

VELCRO Brand Holiday Hackshop

AGENCY: Pierce

CLIENT: Velcro Industries

#StyleTurf by Philips

AGENCY: Pulp Strategy Communications Pvt Ltd

CLIENT: Philips India

Target's Skeletown Square

AGENCY: Elemento L2

CLIENT: Target

Merrier Thursdays

AGENCY: Allied Experiential

CLIENT: General Growth Properties, Inc.
Best In-Store Retail Campaign

Toast to Great Taste

AGENCY: TracyLocke

CLIENT: Pepsi

Miller High Life Artist Series

AGENCY: Arc Worldwide/Leo Burnett Chicago

CLIENT: Miller High Life

McDonald's Gift-fest

AGENCY: The Marketing Store Worldwide

CLIENT: McDonald's Corporation

Turtle Power at Walmart

AGENCY: Nickelodeon

CLIENT: Teenage Mutant Ninja Turtles

Best International Campaign

McDonald's GOL!

AGENCY: The Marketing Store Worldwide

CLIENT: McDonald's

Carga Premiada Incentive Campaign

AGENCY: Marketdata

CLIENT: Volvo

Vodafone New Year's Eve Challenge

AGENCY: Wasserman

CLIENT: Vodafone

Brazil 2014 Fan Zone

AGENCY: Wasserman

CLIENT: Qatar 2022 FIFA World Cup

Best Local/Regional Campaign

Cricket Field Programs / GA Tactics

AGENCY: PGW Experience

CLIENT: Cricket Wireless

Shave-A-Bear

AGENCY: Arc Worldwide/Leo Burnett Chicago

CLIENT: Walgreens – Gillette Flex Ball Razor

Raising Spirit

AGENCY: Epsilon Ryan

CLIENT: Poland Spring

We Are Boston

AGENCY: Upshot

CLIENT: New Balance
Best Loyalty Marketing Campaign

REI Village

AGENCY: LeadDog Marketing Group

CLIENT: REI

Early Life CRM Program

AGENCY: FCB Chicago

CLIENT: Cox Communications

Marriott's 2014 Year in Review

AGENCY: Yesmail

CLIENT: Marriott Rewards

Know Your IBM

AGENCY: Motivforce Marketing & Incentives Limited

CLIENT: IBM

Barclay's Epic Fan Experience

AGENCY: HBO

CLIENT: Game of Thrones Season 4

Best Mobile Campaign

Cover The Bases Sweepstakes

AGENCY: Colangelo

CLIENT: Arm & Hammer

TBS, Cougar Town/ Target's Integrated Shoppable Promo

AGENCY: Turner Entertainment Networks

CLIENT: Target

Kingsford Charcoal Lights Up Grill Sales

AGENCY: TPN

CLIENT: Kingsford Charcoal

P&G Sochi Source

AGENCY: GMR Marketing

CLIENT: P&G

Best Multicultural/Lifestyle Campaign

Chivas Regal Band of Brotherhood

AGENCY: Epsilon

CLIENT: Pernod Ricard USA

Growing Hope Tour

AGENCY: MKTG INC

CLIENT: MSNBC

AT&T Live Proud

AGENCY: 360 Agency

CLIENT: AT&T

Target's Skeletown Square

AGENCY: Elemento L2

CLIENT: Target
Best Multidiscipline Campaign

The Crew

AGENCY: Ubisoft

CLIENT: The Crew

#UpforWhatever Weekend

AGENCY: Mosaic (USA)

CLIENT: Bud Light

McDonald's GOL!

AGENCY: The Marketing Store Worldwide

CLIENT: McDonald's Corporation

Breathe Right: The Bedtime Stakes

AGENCY: GREY Global Group / New York

CLIENT: Breathe Right Nasal Strips

Best New Product Launch

Live in Your Moment

AGENCY: Team Detroit LLC

CLIENT: Lincoln Motor Co.

Verizon Alaska

AGENCY: Erwin Penland

CLIENT: Verizon

Alcatraz

AGENCY: Legacy Marketing Partners

CLIENT: Dead Bolt Wine

New Cricket Wireless

AGENCY: PGW Experience

CLIENT: Cricket Wireless

Best Sampling or Trial Recruitment Campaign

illy issimo Espresso Bar Tour

AGENCY: Escalate

CLIENT: illy issimo

Tic Tac Presents: The My Pack Tour

AGENCY: Legacy Marketing Partners

CLIENT: Tic Tac

Share A Coke Tour 2014

AGENCY: Momentum Worldwide

CLIENT: Coca-Cola

Live in Your Moment

AGENCY: Team Detroit LLC

CLIENT: Lincoln Motor Company
Best Sports Sponsorship or Tie-In

Barclays Ink Master

AGENCY: Scout Sports and Entertainment

CLIENT: Spike TV

NFL Honors Award Show and "Super Bowl Saturday Night"

AGENCY: XFINITY from Comcast

CLIENT: XFINITY

RISE: The Ad Inspired By A Tweet


AGENCY: Liberty Mutual Insurance

CLIENT: Liberty Mutual Insurance

FIFA WorldCup Trophy Tour

AGENCY: iginition

CLIENT: Coca-Cola

Best Use of Content Marketing

NASCAR with Dad

AGENCY: NASCAR

CLIENT: NASCAR

Mikehacks

AGENCY: Trisect

CLIENT: Mike's Hard
Lemonade

Pringles Flavor Slam

AGENCY: The Integer Group

CLIENT: Pringles

The Dress Normal Project

AGENCY: A2G

CLIENT: Gap

Best Use of Event or Experiential Marketing (Five Venues or Less)

APAC International Music Summit After Party

AGENCY: Jack Morton Worldwide (Australia and Singapore)

CLIENT: Google

JetBlue Mint Room

AGENCY: Allied Experiential and Mullen Advertising

CLIENT: JetBlue

Northpole Communication Station

AGENCY: Kicking Cow Promotions

CLIENT: Hallmark Cards

#UpforWhatever Weekend

AGENCY: Mosaic (USA)

CLIENT: Bud Light
Best Use of Event or Experiential Marketing (More Then Five Venues)

Get in the Mix with NE-YO: The Intel Experience

AGENCY: Arc Worldwide/Leo Burnett Chicago

CLIENT: Intel Corporation

NFL Fan Style Tour

AGENCY: Eventive Marketing

CLIENT: National Football League

Absolut ARTPOP Lounge

AGENCY: Live Nation Entertainment

CLIENT: Absolut Vodka

FIFA WorldCup Trophy Tour

AGENCY: iginition

CLIENT: Coca-Cola

Best Use of Games, Contests, and Sweepstakes

NEC Challenge

AGENCY: National Fire Protection Association

CLIENT: necchallenge.org

Pringles Flavor Slam

AGENCY: The Integer Group

CLIENT: Pringles

Atari

AGENCY: Erwin Penland

CLIENT: Denny's

Kids vs. Pros

AGENCY: Catapult

CLIENT: Capri Sun

The Crew & Xfinity Speed Challenge

AGENCY: Ubisoft

CLIENT: The Crew

Best Use of Influencer Marketing

Lovers Unite: We Put That $#!T On Everything

AGENCY: MSLGROUP

CLIENT: Frank's RedHot

Piper Moments

AGENCY: Jack Morton Worldwide (Australia)

CLIENT: Piper Heidsieck

The Penfolds House

AGENCY: All Terrain

CLIENT: Penfolds Wine

Pringles Flavor Slam

AGENCY: The Integer Group

CLIENT: Pringles
Best Use of Shopper Marketing

Helpful is Beautiful

AGENCY: Ace Hardware

CLIENT: The Paint Studio

Get in the Mix with NE-YO: The Intel Experience

AGENCY: Arc Worldwide/Leo Burnett Chicago

CLIENT: Intel Corporation

BMW i8 Pop-Up

AGENCY: SET Creativee

CLIENT: BMW

Pantene Haircast

AGENCY: Arc Worldwide/Leo Burnett Chicago

CLIENT: Pantene

Best Use of Social/Viral Marketing in a Campaign

2014 Season of the #Whiff

AGENCY: Team Epic

CLIENT: Head & Shoulders

#UpforWhatever Weekend

AGENCY: Mosaic (USA)

CLIENT: Bud Light

Verizon #WhosGonnaWin

AGENCY: Wasserman

CLIENT:Verizon

evian Bottle Service

AGENCY: United Entertainment Group

CLIENT: Evian

Best Use of Video

2014 Show Your Joe Campaign

AGENCY: FCB Chicago

CLIENT: Kmart/Joe Boxer

Finders Keepers Sweepstakes

AGENCY: HelloWorld, Inc.

CLIENT: Trulia

For the Love of Cheese


AGENCY: Upshot

CLIENT: Kraft Foods

Call of Duty Takes Game Marketing to New Heights

AGENCY: Resolution Media

CLIENT: Call of Duty: Advanced Warfare
Best Vehicle-Based Campaign

Nike #RiskEverything

AGENCY: Nike

CLIENT: Jack Morton Worldwide- Singapore

Drive 4 UR School

AGENCY: Team Detroit LLC

CLIENT: Ford

2014 #YesToMovement Tour

AGENCY: C3 Agency

CLIENT: Yes To, Inc.

Evolution Tour

AGENCY: Engine Shop

CLIENT: Mercedes-Benz