Want Travel Business? Look to Your Smartphone Presence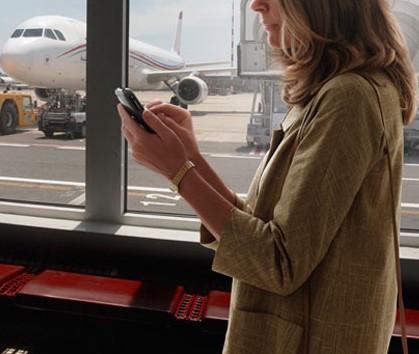 A couple of recent reports have put numbers behind the notion that we lean on our mobile phones for much more than just talk these days. Specifically, if you're involved with the travel industry and want to reach a customer base that's headed away from home, you might want to start making serious plans to mobilize your campaigns before the summer travel season. As it turns out, smartphones aren't just the last things we touch before takeoff or the first things we reach for when we're wheels down.
A new study by comScore finds that more than half of U.S. smartphone users reached out to access travel content of some type over their phones from December 2011 through February 2012, either airline information or hotel and lodging functions.
And they weren't just looking for street addresses either. Okay, yes, some were. But 1 in 5 of those mobile touches involved a transaction, such as booking a ticket or making a room reservation. Specifically in regard to air travel:
26% of users in that time checked airfare prices
25% looked up an airline phone number
25% looked at flight schedules
25% checked flight status
24% looked up airport information
21%checked in for a flight
19% received price alerts on airfares
18% booked a flight
As for the prospective hotel guests surveyed about their mobile doings,
29% looked up hotel address/directions
23% researched attractions/ nearby events
22% looked up restaurants near a hotel
22% read a hotel review
21% compared prices & availability
18% booked a room
18% received price alerts on room rates
Demographically these smartphone travelers skew younger and more male than the overall smartphone user population, so marketers will want to tailor their mobile campaigns accordingly.
"The on-the-go convenience of smartphones has facilitated their emergence as an essential companion for travelers," said Mark Donovan, mobile SVP at comScore, which plans to release the new Mobile Travel Advisor report twice a year. "There has never been a better opportunity for suppliers and [online travel agents] to invest in their mobile strategies to provide a great experience and win loyalty from their customers."
Obviously if you're a big airline, lodging chain or ticket vendor, you're already very aware that mobile is becoming the front door to your business for your customers, and especially for those who are ready to buy. But all you restaurants, spas, salons, luggage sellers, golf destinations and everything fun-related from ticket vendors and florists to surf shops and limo services: Have you strategized how to reach that group of mobile travelers who might be just in town and looking for exactly what you have to offer?
You may not always opt for a mobile ad campaign, and an app may be out of the question. But at the very least you should know how many of your customers are coming to you via your web site or some third-party directory and using the same mobile device that helped in settingup their trip. When they turn that mobile lens on you, how do you come off?
You also need to ensure that you can be found easily, accurately and optimally in local mobile search. At a minimum, that means looking your own business up in the local search functions of Google, Bing, Yahoo and the rest of the bunch, from CitySearch through TripAdvisor down to Yelp.
You might also want to go further and develop a strategy for advertising in local mobile search. Consulting firm BIA/Kelsey forecasts that mobile local search volume will outstrip local search on PCs by 2015 and open up a big lead by 2016, surpassing desktop local search by 27 billion queries. But even as that happens, BIA/Kelsey predicts that local mobile search revenue will only grow to $3.2 billion in 2016 compared to $10.2 billion in revenue for local search engines based on PCs.
In other words, there will be bargains to be picked up tomorrow by businesses that learn now how to run local mobile search campaigns targeting the smartphone traveler.