Walmart Customers Hunt for "Avengers" P-O-P to Play Mobile Game
For fans of the much-anticipated Marvel Entertainment film, "The Avengers," there are only four more days to go until they can purchase a bucket of popcorn and take their seats. For Walmart, the action has already begun. Last week, the retail giant began showing off its partnership with the film by debuting a game that melds the in-store experience with an augmented reality mobile app.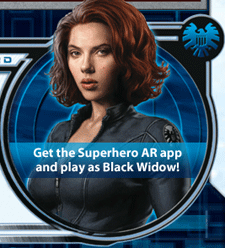 To play, fans download the "Super Hero Augmented Reality" app from the iTunes App Store or Android Market. They then visit a local Walmart to search the store for specific images on "Avengers" P-O-P materials. The signage is strategically placed throughout various departments to encourage players to move around the store, including apparel, grocery, toys and wireless, as well around the 600 "Avengers"-branded merchandise items available for sale.
Once a player encounters the signage, he or she aims their smart phone at the image to unlock powers of the super heroes that appear in the film. Players must then continue their search around the store to collect the powers of the five remaining "Avengers." Once they have all six collected, the players gets a chance to defeat Loki and save the world in the final level to win the game.
The game features many of "The Avengers" most popular characters, including Iron Man, Thor, Captain America, The Hulk, Hawkeye and Black Widow.
Another way to collect all six superpowers is by using the photo capture mode available for iOS and Android. Players activate "photo capture mode" from an "Avengers" DVD pallet in stores and a 3-D model of the super hero depicted on the DVD pallet will become visible on the users phone. Customers can also take photos of themselves alongside the superheroes to post on Facebook or share via email.
Online, fans can visit a dedicated Walmart/Avengers website to look for an image of Black Widow to bring her to life. And, the April 29 Walmart circular carries a Hawkeye image that when scanned with the app activates the feature.
Back in stores, should any of the players get a hankering for a cold beverage or a snack to keep their energy up, some stores will offer food and beverage samples of Avengers-themed products such as Dr. Pepper, Red Baron Pizza and Hershey's chocolate candies.
Last week, Walmart and Marvel held a pre-app and film-debut party in the Twitterverse. The discussion included Avengers trivia and sneak peeks at exclusive content from the app and movie.
"Walmart is bringing this summer's most anticipated blockbuster into stores through a first-of-its-kind augmented reality experience which bridges the gap between the physical store and mobile gaming," Seong Ohm, senior vice president and general merchandise manager for entertainment, Walmart U.S., said in a release. "We're committed to creating engaging and fun experiences at Walmart."