Visa Attempts Olympic Gold in Social Media: Q&A
Alex Craddock, the head of North America marketing for Visa, Inc., is now in his tenth year with the company. His has spent many of those years in different parts of the world before arriving in the U.S. four years ago. Visa has been a sponsor of the Olympic Games for 25 years and in 2002 in Salt Lake City, Craddock took the marketing baton and has worked on every Olympic marketing program since.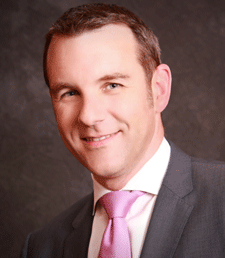 This year, as the 2012 Summer Olympics rounds the bend toward the Opening Ceremony in London, Craddock (at right) will again be there. Visa's integrated marketing program, "Go World," that began in 2008, has been honed for London with the biggest change being the addition of a massive, global social media campaign tagged the "global cheer."
Across the globe, fans can create and submit cheers in the form of a one-click cheer, post or video on Visa's Facebook page, YouTube channel or through partner websites, including NBCOlympics.com, Yahoo and Sports Illustrated.
The social component builds on on-site activations in London, TV and digital advertising, local promotions, athlete support and a sweepstakes so successful during the last Olympics that it is running again through Aug. 31. The grand prize is a trip to the Olympic Games for the rest of the winner's life.
Craddock sat down with PROMO to share his thoughts on preparing to launch Visa's largest marketing campaign in its 25-year history as an Olympic sponsor, the enormous weight placed on activating around social media and what he might be up to on any given day during The Games.
PROMO: What message do you want consumers take away from the words "Go World"?
CRADDOCK: For me it's about cheering as one world and recognizing the incredible human achievements that we see at The Games. Any of us who have experienced The Games, whether in person or on TV, can't help but be enveloped by the enthusiasm and get behind the athletes and cheer them on.
PROMO: How is the "Go World" platform different now than when it debuted in 2008?
CRADDOCK: The biggest difference is that now it's the most global campaign we've ever done. We launched it in Beijing and we saw a very successful return on investment. It proved itself to be powerful. Therefore, as we went through Vancouver and saw the same success it made sense to maintain consistency in London.
PROMO: How do you determine your ROI?
CRADDOCK: What's great about our tracking tools is that we can track down to transactional levels. What's been fantastic about the Olympics it that whenever we activate around The Games it bumps up our return on investment. We saw that in Beijing and Vancouver and we're exceptionally optimistic about London as well.
PROMO: What is new this year?
CRADDOCK: Social is the big piece for us that is new. This whole campaign for London was designed to be social to the core and what we really wanted to do was tap into the passion consumers have for The Games and the athletes. We're activating that insight around the fans and on Facebook. Social allows every fan around the world to be able to participate in London 2012, to get closer to The Games and the athletes themselves, to be able to cheer for the athletes and to share those cheers with their friends.
PROMO: What has your role been like?
CRADDOCK: My role is interesting. It actually started 14 months ago with the development of the campaign. We're activating across 70 plus countries. That's a very big task. We are harnessing the information we've learned from past Olympics and our teams around the world and using that for strategic and campaign development to get where we are today.
PROMO: What is the next step?
CRADDOCK: Over the next three months it's about monitoring the performance and analysis that we get now to optimize the performance of the campaign.
PROMO: What will a typical day at The Games look like for you?
CRADDOCK: I'm not sure I have a typical day. It's a combination of enjoying what The Games have to offer. It's a phenomenal experience. To be able to enjoy it with fans and be part of the excitement and vibrancy and the way it takes over a city is very unique. In my more official duties, one of the most exciting things we have running is our congratulations TV spots. We'll do that again this year with a new addition; we'll include the fan cheers in the athlete congratulatory spots. To be able to move at the speed of culture requires a lot of work. That's something we're very focused on and that will take up a lot of my time in terms of official duty.
PROMO: What has your biggest challenge been in planning for the Olympics?
CRADDOCK: The biggest challenge, I'll call it an exciting opportunity, is with social and the importance of social in orchestrating your content across those multiple platforms. We have a lot of experience on Facebook, Twitter and YouTube and are harnessing those experiences to make sure "Go World" delivers a great user experience.
PROMO: What are your goals for the social media program?
CRADDOCK: The goals are around engagement and sharing. We have a multitude of different metrics we track. It's hard to find one metric that we'll be able to track on a day-to-day basis. It's the level of sharing and engagement that will drive the level of success across "Go World." We focus on three key metrics, views of the multitude of videos, the "likes" that we garnish for our Facebook page and the variety of consumer content and the cheers themselves.
PROMO: Can you share specific numbers?
CRADDOCK: I wouldn't want to share particular numbers, but we've done a lot of analysis to build from the bottom up what the expectations are that we would consider a success. We've been active in the social space for the last four years so we have a lot of metrics to call upon. We seek to exceed those and it will give us a good way to track the campaign and give us an idea of the success.
PROMO: Are you concerned about ambush marketing?
CRADDOCK: It's something you monitor. We work closely with the IOC [International Olympic Committee] to protect our rights. This will be our third Olympics with "Go World" so we have that strong continuity and awareness so it's not something we'll concern ourselves with on a day-to-day basis.
PROMO: How are you customizing "Go World" on a local level?
CRADDOCK: We have a lot of the imagery that's very consistent, but what we have to recognize is that we need to localize it to make it relevant. The local marketing has the flexibility to adapt to include local athletes. We have over 60 Olympic athletes so we have the ability to include those in the campaigns and make it local and with that comes the ability to modify language and creative to encourage cheers in those local markets.
PROMO: How many local businesses are you working with?
CRADDOCK: The power of the Olympics is working with our financial partners around the world. We have in access of 1,000 partners that are activating, which has resulted in excess of 550 promotions that are going on around the world. That's powerful in terms of the business that it drives.
PROMO: As a marketer in a very competitive category, what keeps you up at night?
CRADDOCK: It's continuing to be able to deliver a superior and optimal consumer experience across many different platforms. Consumer behavior is changing very quickly and as a marketer its about keeping up with that and ensuring that the experiences that you put out there are evolving at the same pace as consumer changes. That's the piece that I think about an awful lot and I think I will for an awfully long time because I don't see that slowing down anytime soon.