Tips to Get More Fans to Share Your Facebook Content
Understanding and targeting unique content to your most active Facebook fans can dramatically improve pass alongs.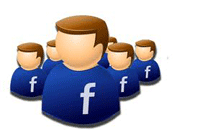 But before you get started, you need identify those fans. There are a number of ways to do this, including some good ol' fashioned manual detective work. Admins can closely monitor Facebook metrics—number of shares per post, number of people talking about the post and reach—to see how each piece of posted content performs. The content calendar can then be tweaked based on those results. Or, you can use third-party social marketing software like Awareness or Vitrue, which allow you to post content through their systems and they capture additional analytics beyond what you can learn from Facebook.
"It's intuitive, too," Jenna Lebel, managing director of strategy at Likeable Media, said. "Think about yourself. If you're sharing something it needs to be so compelling for you to take up valuable real estate on your own Facebook page. And the content needs to be so unique and interesting that you'll take that next step to share it with all of the friends."
Dole Packaged Foods knows how many active fans pass along its Facebook content and is investing in refining its content strategy to improve those numbers.
"The more engaged fans are the more likely they are to pass along content and that's the real power," Dave Spare, vice president of marketing for Dole Packaged Foods, said. "We want to focus on content that is relevant to those who would pass it along, because that's ultimately where you get the bigger numbers."
Lebel offered the following six tips to improve the share-ability of Facebook content.
1. Look at the data How many interactions are you getting on certain pieces of content? Put that content into buckets, such as video, content with a photo, an article, etc. "This allows you to see and segment what's working and what's not," she said.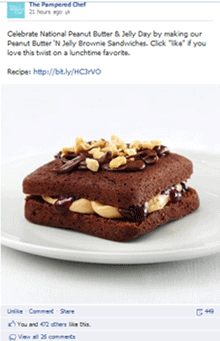 2. Switch up the types of content Begin to experiment. Try short- and long-form articles and one- and two-minute videos to see what pulls best. Ask engaging questions. Post content related to that day's news or events. As an example, The Pampered Chef experimented with a variety of content and found that fans actually want to share recipes and feel good stories and put a focus on that. "There's not one form of content that resonates with everyone, so by switching it up you're colleting more data and figuring out what works with most fans," Lebel said.
3. Post content that's worth sharing Posting content such as, "Share this if you're happy it's spring," will not do it. Content should be controversial, relevant, a timely article, something that is on everyone's mind. The postings should also have an added benefit; something that makes people laugh, a resource or how-to, for example.
4. Originality takes the prize Posting an original, unique piece of content that really stands out will catch fans attention, such as a compelling photo or info graphic that quickly summarizes some interesting findings.
5. Ask people to share or at the very least include a strong call to action. Research has shown that asking people to share works. A study last year from Momentus Media found that asking users to "like" a post got 216% increased engagement on that post. "It's a no brainer, but they may not think to press that share button," Lebel said.
6. Keep the content concise Users are interacting with brands via the News Feed and they're connected to a lot of people and many different brands. They are scrolling through News feeds pretty quickly. "No one wants to read a novel in his or her News Feed," she said.
"Facebook changes so frequently, now with the change to Timeline and people interacting primarily within the News Feed, there almost needs to be a reason to go to your page," she said. "Ultimately, content is what's going to drive users and if you're not publishing strong content you're not going to elicit action. It's critical that brands focus on content and curate different kinds so the brand becomes more relevant for the user."