It takes a village to make kids healthier. New U.S. government guidelines encourage participation not only from parents, but also from the community, especially from schools. In fact, a recent amendment to the Healthy, Hunger-Free Kids Act requires schools to tell the public exactly what they're doing to provide better wellness programs for students, including cafeteria nutrition policies, health classes, and physical education.
As part of this trend, many brands are helping schools improve wellness programs while capitalizing on schools as allies and venues for communicating their product messages. From foods to beverages to cleaning and personal care products, brands are reaching out to educators with incentives and resources to teach kids about health, encourage more healthy activity and loyalty.
Let's take a look at how four brands are participating:
Henkel
Henkel, the company behind mega brands like Right Guard, Dry Idea, Purex, Dial, Renuzit and Soft Scrub, has been active in children's health since 2007 under the "Henkel Helps" platform. This back-to-school season, the "Henkel Helps Kids Get Fit" promotion invites consumers to nominate their school for a $10,000 award to be used for fitness programs.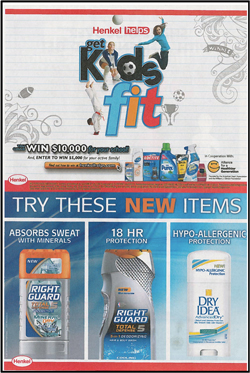 Using an online form, entrants are asked to describe their school's current wellness programs and suggest how the prize money could best be used. In all, Henkel will donate $10,000 to three schools—one elementary, one middle, and one high school. To further motivate participation a separate Henkel sweepstakes offers consumers a chance to win $5,000 in personal "fitness cash."
Henkel is activating its promotion with a multi-page FSI carrying coupons for a variety of its brands, along with retail overlays in partnership with Walgreens and CVS. Messaging on the brand's website and social media platforms invite involvement from both parents and kids, encouraging them to nominate their school for the prize. Henkel's promotion is a great example of a way to gather a number of disparate product types under a single wellness umbrella.
Lysol
Lysol's "Healthy Habits Curriculum" program is tied to the brand's germ-fighting heritage, and features tips for keeping kids healthy in school at their desks. A central element of the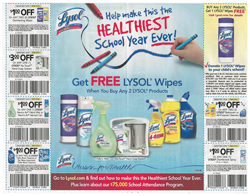 promotion is the "Lysol Blue Ribbon School Attendance Challenge," which awards $75,000 to schools with the best attendance records. (Last year's winner had a six-month attendance rate of 99%!) The promotion is activated through FSIs and on the company's information-rich site, where consumers can pick up ideas for keeping kids healthy throughout the school year. Lysol has long been known as an "anti-germ" brand. This promotion helps to emphasize the "pro-health" side.
Sprite
Sprite, a Coca-Cola brand, is proving that even soft drink companies are committed to participating in the healthier kids movement. Trading on its energetic image, the brand is putting its BTS efforts into a specific area of kid's health by refurbishing outdoor play spaces—part of a yearlong $2 Million initiative.
Sprite's "Spark Parks" campaign encourages activity by replacing worn equipment and giving kids safe outdoor spaces to gather and play, such as basketball courts and tennis courts. This fall, the "Sprite Spark Parks" program will give 25 schools $25,000 grants to refresh their recreation areas. Unlike Henkel, Sprite's promotion does not require a nomination process. Consumers simply enter a rewards code found on Sprite products to enter the sweepstakes on behalf of their kids' school. The winning schools get updated play spaces, and Sprite gets a brand billboard on each project—a hometown version of putting your brand name on a sports stadium.
Chiquita
This year, Chiquita is capitalizing on its history as a healthy lunch box staple to promote the "Chiquita Banana Smart Sweeps." It's a campaign that includes school, retailer and community outreach to promote healthy eating habits for kids.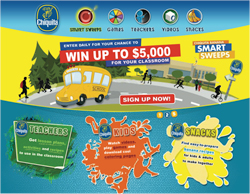 What makes this promotion unique is the special effort it makes to reach teachers. In addition to general consumer health information and recipes, the Chiquita website has a special tab directing teachers to health-oriented classroom activities and instruction aids. Teachers can register their classroom in the sweepstakes for a chance to win free bananas for their classrooms in partnership with local retailers. They can also get extra points for cash prize drawings and can increase their chances with site interactions, such as lesson plan downloads, worksheet activity and classroom game participation. Decades of strong branding have helped Chiquita separate itself in a commodity category. This promotion is a strong step towards associating the brand with a higher purpose.
With these promotions, brands are going beyond the traditional mom audience to engage teachers and communities. The hope is that tying good health to educational programs and classroom activities may help to insure wider participation and raise the profile of the cause across the community. Brands that succeed in identifying themselves with the crusade for healthier kids stand to earn good sales, goodwill and loyalty.
Fran Greenberg is senior vice president at Antidote 360, an integrated marketing agency focused exclusively on health and wellness marketing. She can be reached at greenberg@antidote360.com. Antidote 360 is part of Source Marketing, which ranked No. 45 on the 2011 Promo 100 with an estimated $25 million in U.S. net revenue.