Your metric set is deployed. Results will show up soon on dashboards across your marketing team to build predictability. Work in touch points, and customer experience is giving unprecedented insight and quick hits that are bringing greater effectiveness to those who matter: customers and shareholders. In parallel, it's time to focus on the six dimensions of marketing performance to improve efficiency.
Hewlett-Packard is one company that focuses on capabilities for efficiency. HP has been on a steady pace to employ these dimensions of performance across its enterprise. As an example, in a recent article in "1to1" magazine, Olivier Kohler, senior vice president, e-business, customer, and sales operations, explained why HP has greatly improved satisfaction scores and taken market share from competitors such as Dell. The company has focused on improvements across three pillars of capabilities: customer engagement, customer experience, and day-to-day operations.
The keys to success? Kohler lists
• design – those responsible for managing customer relationships design processes;
• customer lifecycle – processes cover the complete range of customer interactions;
• training – every HP employee receives customer experience training;
• measurement – HP shares satisfaction and operation metrics with customers and takes responsibility for improvement.
Quaero's Six Dimensions of Marketing Performance provides the same solid foundation to evaluate and benchmark effectiveness, rooted in your marketing capabilities, and then defines the roadmap for improvement: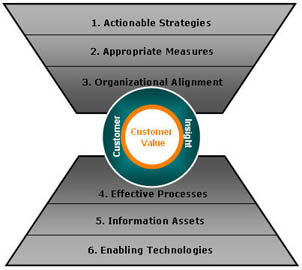 1) actionable strategies These enable you to build strategic plans that work because they take into consideration marketplace realities and the financial and execution capabilities of your marketing department, aligned with corporate goals.
One key aspect is marketing strategy as an investment portfolio, in which you evaluate your risk and return on the full range of current and potential marketing strategies. The other key aspect of actionable strategies is disciplined action. Here you
• move your attention to managing customer portfolios
• determine triggers to improve customer value
• know and guide customer experiences across touch points
• define behavioral cues as actionable customer needs that drive growth
• set test and learn treatment strategies to drive higher yields and returns.
2) organizational alignment Your marketing team must be as effective and in tune with business goals as your strategies and processes. Examine your marketing staff, their skills and roles, the department structure, and the training programs available. Optimize them to achieve your business goals. Marketing must span boundaries and orchestrate the alignment of multiple functional groups. It must bring the voice of the customer to enterprise operations and ensure that the company is always building customer value. It must also internally ensure that appropriate talent and capabilities are in place and that relevant training, development, and reward structures are applied.
3) appropriate measures How effective are your marketing efforts? In my April column I addressed developing comprehensive, information-based metrics that quantify customer response and internal processes, and marketing performance metrics frameworks that put the results into perspective. By measuring marketing activities, channels, and customer segments in a disciplined framework that takes into account overall business and financial metrics, your company can assess its return on marketing investment and learn precisely where to reinvest for maximum performance.
4) effective processes Here is where you define the activities that offer the highest return. Following these established processes faithfully can result in greater predictability and repeatability of marketing results, minimized risk, and a stronger foundation for continuous marketing performance improvement.
5) information assets and analytics Leading marketers know that the best decisions are made through leveraging customer data for insight into past behavior and likely future actions. But with the wealth of information available to your organization, on what data should you focus for improved performance? This capability is to organize, qualify, analyze, and report on the state of your information assets – relevant and actionable data – so that you can not only apply greater insight to your decision making but also use data-driven decisions as a "learning agenda" to improve your overall marketing program.
6) enabling technologies The right technology can accelerate and empower your marketing program, but only if a foundation of aligned strategies, processes, and organization are in place first. If not, you risk automating a bad process – in essence, setting up your technology investment to fail. Technology must follow not lead, business requirements. Technology must enable processes, not dictate them. Here, you define business goals and align strategies, processes, organization and measurement framework before buying and implementing the hardware, software and network environments needed to support your marketing.
Naras Eechambadi, CEO of Quaero Corp, captures all six of these dimensions of performance in his book "High Performance Marketing."
Lane Michel is executive vice president/managing director of the Marketing Performance Management business unit of Quaero Corp., a marketing and technology services provider based in Charlotte, NC.