Companies forgot that customers are people–people who make decisions based on their experiences with the company's products, services, messages, and interactions. And customers have been fighting to be heard.
Customer relationship management (CRM) attempts to pull together a sense of reality in brand, relationships, and loyalty. But CRM requires a massive investment and organizational change to adopt more and more robust technology and processes. Innovation continues to first push the envelope of capability and then finally pragmatic improvements — as Gartner, Forrester, and every other industry analyst describes adoption curves. Adapting the company to new practices and technology becomes a seemingly escalating investment.
Is the same true for customer experience management (CEM)? No. And here's why:
• The key cause of a black hole of investments in marketing information technology and failed CRM implementations is serious confusion about customers. Opinions, not facts, rule decision-making.
• At the heart of this confusion is a lack of disciplined insight into the interactions and experiences customers have with your products, channels, and company.
How can anyone actually think he can improve customer relationships and marketing effectiveness, much less generate more predictable consumer behavior, without recognizing and understanding the experiences customers have accumulated today? But that is exactly what most companies are doing.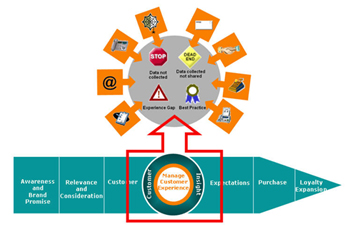 The discipline that has to be put in place to get acceptable returns on investment in customer strategies and practices is labeled customer experience management, but I wish it were called imaginative customer understanding, or ICU, if nothing else for the healthcare parallel to the triage needed to get your company off life support and on to the treatments that customers will respond to and value.
This is a new discipline and new tools. The main tool to deploy is generically called touch-point mapping. The underpinnings to this tool have been around since the early days of Rummler-Brache process reengineering in the 1980s. From failures in reengineering efforts we learned that if a company failed to conduct relationship mapping, fundamental economics and interactions would be missing, dooming the success of a reengineering.
In other words, people's experiences would make or break any reengineered company designs. These people were employees of the company, suppliers, channel partners—and customers.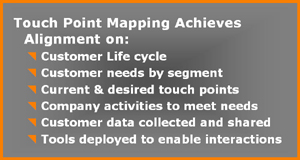 The discipline in CEM is actually very simple. And that's often the only real source of uneasiness for our customers, too many of whom continually look to put things through what Debbe Kennedy calls the Complexor in her book "Breakthrough!: Everything You Need to Start a Solution Revolution."
For one insurance company we worked with, the results were staggering. Where no consensus or alignment existed on customer or broker lifecycles and needs, it gained a common language and understanding of the most basic drivers of experiences. Company executives had imagined there were a dozen common customer needs; it turned out there were 25. Brokers, for instance, had 18 distinctive needs that had previously been viewed in silos across the company. The subsequent touch-point map highlighted • 155 touch points • 18 media used in interactions across touch points • 38 major gaps in experiences against expectations • 65 data stores (databases, spreadsheets, file folders) • 15 customer "off-ramps" (places where the experience caused defection)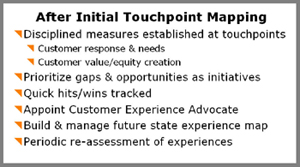 Armed with a much clearer customer understanding, this insurance company had the ability to reset priorities. Its initiatives included realigning around a customer mission to complement both the product and the risk management business mission. It reset information technology investment priorities based on what customers would value most. The company also learned how customers would use the Web for self-service and how that would relate to underwriting and claims customer service interactions that were so difficult for its customers and brokers.
Companies that are embracing the role customer experiences have in driving their fortunes are making targeted improvements that deliver on their future state designs.
Ace Hardwareknew that point of sale at its affiliate stores was the critical touch point to customers, so it enrolled key stores to share customer data in a membership program that delivered better marketing on their behalf, driving more customers into the stores.
USAA Insurance realized that its customers could get more value from its multiple service lines. To communicate that to customers, USAA consolidated its contact center touch points so that customer service reps now have a single view of the customer with scripted offers that have fueled continued growth.
Best Buy developed disciplined customer profiles and segments and leveraged them in-store by unleashing the creativity of store management and employees to tailor the customer experience accordingly. The result: higher revenue per square foot at participating stores.
The reason customer experience management is getting so much attention today is that customers reward companies that actually listen to them and change the company's behavior to be more relevant and responsive.
(For more information on touch-point mapping, check out my recent article "The Key Tool to Changing Your Behavior with Customers.")
Lane Michel is executive vice president/managing director of the Marketing Performance Management business unit of Quaero Corp., a marketing and technology services provider based in Charlotte, NC. You can reach him at lane@quaero.com.