"Arthur Christmas," a film produced by Sony Pictures, was released in theaters nationwide on November 23rd, 2011. The film was a kids and family targeted release that featured a fresh take on universally appealing holiday themes, including Santa, the Elves and the delivery of presents around the world on December 25th.
The film released during an extremely competitive time frame. Sony's challenge was to find a way to connect with the movie's target audience during a very busy period when families are on the go, and introduce its fresh take on classic holiday themes in an engaging and modern format that would generate excitement for the release.
The importance of marketing the film on the mobile platform was critical based on the proliferation of smartphones and the ability to deeply engage users on the go. Breaking out of the traditional holiday mold was essential to presenting Arthur Christmas as a fresh holiday entertainment experience.
Nickelodeon created a custom mobile destination designed to engage the audience while increasing awareness for the movie. Nickelodeon leveraged a theme from the film – whether kids have been "Naughty or Nice" – for the promotion. Inspired by the gadgets the elves in Arthur Christmas used to determine this, the mobile web destination allowed users to test their own degree of "Naughty or Nice." Located at NaughtyorNiceScanner.com, the site allowed users to scan themselves via web-enabled mobile devices.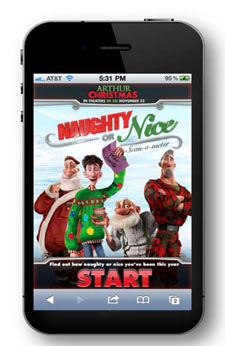 Mobile efforts launched four weeks prior to the film's release and were supported by Nick mobile ad units driving viewers to the destination. In the final week of the campaign, promotional support was augmented with on-air marketing across Nickelodeon, Nick@Nite, and Nicktoons featuring a family using the mobile "Naughty or Nice" scanner in hilarious ways, with everyone trying to up their "Niceness" score.
By combining efforts across the mobile, digital and on-air platforms, Nickelodeon successfully drove engagement and awareness results for Arthur Christmas, including a 1,457% increase in traffic to the scanner during the week of the film's release, more than 3.7 million mobile page views, and over 1 million scanned fingers, thumbs and paws. There were more than 3,000 clicks to the mobile movie trailer.