Political Ad Dollars Haven't Followed Voters Online
Individuals who would lead the country seem to be followers when it comes to marketing: Of the $8 billion in ad spending this year's national elections are forecast as generating, only around 3%-5% is expected to be spent online, according to Andy Slater, VP of digital agency sales at Katz 360.
"Online advertising is something very new to political candidates," Slater says. "It's still not as tried and true as TV and newspaper."
As of early 2012, the web hasn't seen the revenue it pulled in during elections cycles past. There are several reasons for this: First, only one party is hosting a primary contest. Second, the segmented regional appeal of the candidates has limited the number of states in which more than two candidates have spent heavily.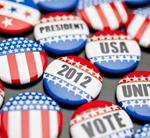 "Television will still get the lion's share of political ad dollars," Slater continues. "As an online [advertising network] entity, we hope that TV sells out, and that there will still be dollars to be spent. Sites with video inventory offer a great way for candidates to repurpose their commercial into online videos."
Slater's hope for a big payday lies with the super PACs (political action committees which work in support of issues favoring a candidate while supposedly not working directly with candidates), which he sees as bringing a fair amount of campaign spending online.
"Candidates aren't spending as much as the super PACs," Slater says. "[Candidates] are willing to explore [online messaging], but only after they get past their tried and true media elements."
Targeting The Online Voter
Slater's bullishness on online advertising reflects an increasing sophistication in targeting. Rather than purchasing site-specific inventory, marketers have the ability to target messages based on consumer browsing behavior and other online information across multiple sites.
In the political arena, this information can be matched with public voter records. While a campaign can't target based on voting habits (which are confidential), it can make reasonably accurate inferences based on anonymized cookies that have captured online activity, location, age, ethnicity, income and automobile ownership data, Slater says. Through that, campaigns are able to target information to specific IP addresses. (Personal information such as names, he points out, are stripped out and replaced with codes.)
Campaigns don't have to wait for a consumer to visit a politically related Web site. If a campaign pays a firm that coordinates advertising across a network of sites for a certain number of exposures, political messages likely to resonate will be put in front of consumers browsing sites without political or news focuses.
For marketers looking to sell these sorts of services, the most fertile prospect pools likely aren't the campaigns themselves but rather the ad agencies which are coordinating their outreach. As Slater notes, the agencies likely have a comfort level in working with vendors, especially those vendors that are already providing offline media services.
Online channels allow candidates the opportunity to repurpose offline creative, such as radio and television commercials, into the online space. They can be especially effective as pre-roll spots leading into videos, such as television shows or other online content, consumers want to view.
Metrics Matter, Even in Politics
But there's a difference in how this content can be effectively used online. Unlike radio or television, political advertisers have the means of immediately evaluating the effectiveness of their spots.
With online advertising, campaigns can track donations generated from an ad, the number of clicks for more information, or whether a spot pulls in enrollees for campaign updates. The online channel allows a campaign to determine whether its messages are being watched until the end—or if there is a consistent point at which viewers click off. This information could spur a campaign to adjust its messaging.
The geographic targeting aspects online channels provide enable campaigns to solicit participation by like-minded voter—such as showing up at caucuses or primaries or attending campaign events—without waiting for these voters to put themselves on the campaign contact rolls.
"We had a super PAC come in at the very last minute with a large six-figure spend," Slater says, declining to provide client details. "It was a Friday before a primary election, and it took advantage of our ability to get into every DMA [designated market area] in that state.
"There is a real desire to target locally, to get as granular as possible" Slater continues. "Technology today is making that happen. We can drill down to within zip codes in a congressional district. The candidates that take advantage of this will reap the rewards to reaching their target voters."
Slater feels the Obama re-election effort will provide the next evolutionary step in how online media is used in the political arena.
"The web strategy and social media of Obama's campaign helped get him elected in 2008," he says. "I am sure we will se some very smart and slick advertising coming from that campaign again."