Peapod Tries On Tesco's Mcommerce Approach
Lately I've been working with the results of our most recent Chief Marketer mobile marketing survey, and while you'll have to wait until early June for that data, I can say that those results have made me acutely aware of two things about mobile marketing. The first is that more than any other platform, mobile marketing is heavily dependent on the kinds of technical details that marketers very often don't want to deal with. The second is that because they don't think about those things, ideas that are good in theory often fall short in execution.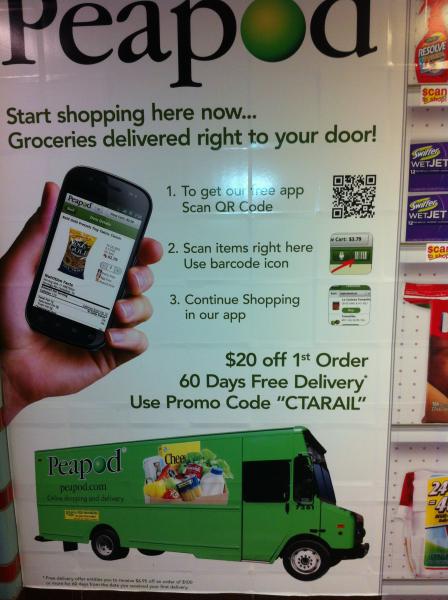 The most recent example I've come across is a new pilot program being tested by online grocer Peapod. It's a U.S. version of a mobile barcode-scan ordering system that has apparently worked very well for Tesco Homeplus as a way to grow in South Korean markets without building new stores. There passersby in locations such as a Seoul subway stop could look at a photo display of shelves full of grocery and home products, load them into a cart by scanning the QR codes on items, pay for the order and have it waiting on their doorstep when they got home from work a few hours later.
Peapod, which has no stores at all, has reportedly tried an adaptation of this campaign to enter a new market, Philadelphia, and is now seeing if it can build wallet share in an existing market: Chicago, near its headquarters north of the city. Chicago Transit riders in a subway stop near my office will see a pedestrian tunnel lined on both sides with posters showing some 70 grocery and household items and their accompanying prices and bar codes. They can scan those codes, load those items into a shopping cart, and get them delivered to their doorsteps.
Except they can't—not quite that simply. And those extra steps might be just complicated enough to keep this scan shopping from becoming a major channel for Peapod.
The basic problem is infrastructure. I've always been told that South Korea has some of the highest penetration of high-speed Internet connections in the world. High-speed broadband there is about four times as fast as in the U.S., and wireless companies there have been in the forefront of developing high-speed 4G and WiFi networks that make ours look like string-and-tin-can affairs. I don't know for certain, but I'd be willing to guess that the subway station Tesco chose was selected both for its foot traffic and its public wireless access.
Back here in the City of the Big Shoulders, I find that my wireless provider – who shall be nameless but who rhymes with AB&C—can't give me more than two bars when I'm inside my apartment. Down in the CTA pedestrian tunnel under the corner of State and Randolph streets on Monday, I would have been happy to get two bars consistently. My signal wavered in and out, which meant that it took several tries to go from a scan of the set-up QR code to the iTunes page where I could download the Peapod app—the first necessary step. That kept me at the foot of the stairs leading to the street, so I had to keep dodging people bringing down wheelie suitcases and other impedimenta while I set up my account.
Once that was done, I set about scanning in code. A 12-pack of Dasani water, scanned, brought up the product information and price. I moved on to another item and realized one thing: to scan anything on the lower shelves of the display, I was going to have to bend down and possibly consider kneeling on the floor in order to center the bar code inside the lines of my camera. In this well-traveled stretch of underground real estate and on a rainy day, that was not an appealing prospect. I decided to keep my shopping at eye-level or above.
I next scanned in a bag of baby carrots. In fact, I scanned it in three times, taking minutes each time and getting back two notices that my scan had failed. Either I wasn't centering the bar code properly or my wireless connection was doing me dirty.
Finally I got the carrot product page. At that point I realized that I needed to go one step further and click another button that actually added the product to my shopping cart—something I had neglected to do with the Dasani, and therefore my cart was still empty.
I assume that's a customer service step to cut down on mistaken orders, and I guess it's possible to scan in the wrong item—although all the products are depicted at life-size and pretty widely separate. But at the least, I was irritated to realize that the instruction poster had failed to mention the need for this added step. If this process isn't quick and convenient, it's that much less useful.
I stopped scanning. I didn't take the process to checkout, because I knew I would have to open a Peapod account and associate it with a bank account or credit card in order to make payments. I have no idea how customers pay in the Tesco example, but I'd be willing to bet they can do it with mobile payments that then appear on their monthly wireless bill.
The Peapod folks may also want to rethink other parts of this test. For one thing, the South Korean shopping experience has much better esthetics. The products are displayed in backlighting in a bright, colorful photo transparency and, as evidenced in a video made by Homeplus, the setup is located in a large open area.
In Chicago, the items are displayed on paper wall posters duplicated on both walls of a tunnel that feels less than 10 feet wide and 50 or maybe 60 feet long and lit by fluorescent overhead lights. It's clean enough outside of the snow-and-mud season, but it's not someplace you'd normally choose to tarry.
That might be the most significant difference. The Tesco display is apparently located right on the platform and in fact placed on walls that protect travelers from the incoming trains. It's placed where they would be standing anyway waiting to board. A crowd of people with nothing to do but wait around; high-speed wireless in the atmosphere; and an attractive shopping opportunity right in front of their faces. I'll bet those Seoul trains even run on a schedule, so these shoppers know exactly how much time they have to build and send their order.
If I were Peapod, I'd take the resources behind this campaign and devote them to getting more people to go to the brand's mobile site to shop directly. Peapod already has a campaign that uses transit advertising; I see their ads appear every fall when the weather's starting to get bad and urban shopping is getting tiresome. They're a good idea; homebound urbanites are thinking about what they might have in their pantries and dreading that slog to the store.
But I don't think I've ever seen QR codes on those ads driving mobile users to download an app from which shoppers can buy directly, or sending them quickly to the Peapod mobile site. Scan-shopping is a clever gimmick, but taking people directly to a mobile space where they can just go ahead and buy might be more profitable in the end.
I don't intend to argue that this pilot will not work at all for Peapod. I know it has garnered a lot of unearned media in local press coverage, and in a virgin market (which Chicago is not), creating that kind of buzz may be the most important thing. It might also lead to more app downloads, as it did for Tesco, and perhaps to more registered users.
But as a driver of incremental sales it needs work. Peapod will have to find locations that have more than just raw foot traffic. They'll need spots that draw large crowds of people who have time on their hands, high-end smartphones, and money to spend; where the wireless speeds are good and the atmosphere conducive to shopping.
May I suggest setting up some displays in the vestibules of Starbucks?