Meijer Rolls Out Holiday Digital Sweeps with a Video Hook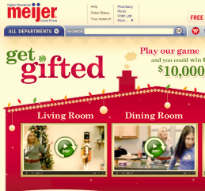 It's probably engaging enough that Midwest retailer Meijer is running an online holiday contest offering website visitors a chance to win $10,000 in gift cards, as well as a $10,000 to their local food pantry. But to ensure its hold over visitors' interest, the Meijer "Get Gifted" promotion has also deployed a unique 360-degree video technology that lets them search virtual rooms for instant-win prizes.
Launched Nov. 10 and due to run through Dec. 18, the "Get Gifted" website highlights holiday gift ideas in décor, small electronics and entertainment centered on three areas of the home: the living, dining and game rooms. Visitors can use their mouse to drag the picture and get a 360-degree look around each of those rooms, including full-motion video from the families living in them.
Selected items are marked with red bows; mousing over them brings up their product details and a purchase link. Each day of the promotion, each of the three rooms will offer one of those gifts as an instant-win prize for the first visitor who opens it at the right time.
Visitors who click on the daily prizes after they've been awarded will be asked to submit their contact information and will be entered in the drawing for the $10,000 sweeps prize and matching donation.
"When you look at the holiday season, it's very crowded in terms of how competitors are trying to engage with customers,' says Meijer chief marketing officer Kevin Brown. "At the heart of the strategy [for this promotion] is just making sure that we're doing things that our customers are signaling that they're interested in. Our customers were telling us that they want to engage with us digitally, and to date we haven't done enough of that."
The video platform, captured with nine separate cameras for each room, is designed to hold visitors' attention while they're on the site and to get them returning often, says Brown.
While national brands in the supercenter category are just now broadening their food offerings, Grand Rapids MI-based Meijer's 197 stores are already valued by customers for their wide grocery and produce inventory, says Brown. But the stores—located in Michigan, Indiana, Ohio, Illinois and Kentucky—may show up less on their customers' radar for gift or electronics purchases.
"There are quite a few customers who would shop the other guys for Christmas gifts," he says. "We felt this was a good opportunity to highlight some of the great brands we sell."
The highly interactive Get Gifted campaign page can also be shared via Facebook or Twitter, giving Meijer some of its largest exposure to date to social media and the power of influencers. "That's another broad trend that we wanted to start using and see what we could do with," says Brown.
Meijer has previous experience with video, however. In addition to recipes, coupons and a shopping-list app, The Meijer Mealbox website offers some 30 cooking-demo videos on its related YouTube channel.