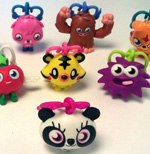 The Moshi Monsters franchise is invading McDonald's this holiday season for a Happy Meal promotion that will introduce a new character and promote a new Nintendo game.
The promotion, which began Dec. 14 and runs through Jan. 10, will offer toys of eight Moshi Monster characters, including Katsuma, Poppet, Iggy and Moshling, a new "mystery" character. Each toy will also come with a free 3-day membership to MoshiMonsters.com.
"We tend to introduce new Moshlings at 'special' or 'landmark' moments," says Edward Relf, chief marketing officer/chief commercial officer of Mind Candy, which produced the Moshi Monsters online game. "Partnering with a brand as established and well-trusted as McDonald's is a fantastic landmark moment so we took the opportunity to unveil a new Moshling as part of the promotion."
Moshi Monsters has 70 million registered users in 150 territories worldwide. The site is for children age 6-12 and offers them the opportunity to "adopt" pet monsters. Kids choose from one of six virtual pet monsters that they can create, name and nurture. Once their pet has been customized, players can navigate their way around Monstro City, taking the daily puzzle challenge to earn 'Rox' (virtual currency), playing games, solving Super Moshi Missions, personalizing their room, showing off their artwork, reading stories and communicating with friends in a safe environment.
The McDonald's venture kicks off a series of promotions designed to heighten the profile of the Moshi Monster brand in 2013. A variety of toys and collectibles, books, a magazine and trading cards are already available in the U.S., as is a new Nintendo DS/3DS game, "Moshi Monsters: Moshlings Theme Park."
"We've evolved Moshi Monsters as a kids entertainment franchise so there are a variety of both digital and non-digital entertainment brands ready to give us a run for our money," says Relf, noting that the game itself is at the heart of all marketing efforts. "We try to focus on quality and wholesome family content and this provides us with our competitive edge. Story is king so we keep our narrative strong, introduce lots of new characters and backstories to keep the kids engaged."
Around two thirds of the Moshi Monsters site is free-to-play. Those who choose to pay a membership fee of about $6 a month get access to exclusive areas and features within the game, including Super Moshi Missions, the Underground Disco, Gift Island, The Port, Moshi TV studios, among others. They also can collect an unlimited number of Moshlings (tiny pets for your pet monster), personalize their monster at Colorama, show their artwork at the Googenheim gallery and play games at the Moshi fun-park.
Because the target audience is 6-12 year olds, social media isn't a primary way the brand tries to connect with kids. That said, Mind Candy does use Facebook and Twitter to target parents who go online with their children, in addition TV, print, radio, outdoor and PR.
Relf notes that the Moshi Monsters brand does maintain an email database of over 70 million registered users worldwide from over 150 countries.
"Our emails go to the parents or to kids over 13 and we're careful to adhere to email marketing guidelines," he says. "We also mix our content so it's part editorial. We don't want to be overtly commercial in our messaging as any communication, be it editorial, campaigns or promotional literature, are all part of the core Moshi Monsters experience. Therefore, we are careful in our tone and how we address our users around the world, which all tie back into the character of the brand."
The overall brand awareness impact of a campaign like McDonald's is a tricky one to measure, admits Relf. In general, URLs and other analytics to track campaigns. "By measuring site impacts, virtual item redemptions and in-game traffic we're able to measure to a certain degree the tangible impact of promotions."