A look at some of the pre-Black Friday messaging that hit the mark can be found here. As for Cyber Monday, here's a couple of emails of note: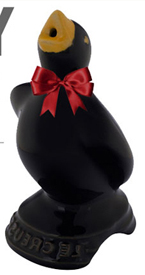 Le Creuset caught my baker's eye late in the day Cyber Monday with the subject line "Get Your Free Pie Bird Before It Flies Away + Free Shipping." It's a cute special but it seems a few days late. I mean, c'mon, isn't Thanksgiving like the pie holiday of the year? This one definitely should have been a pre-Black Friday special.
Grandin Road also offered free shipping, and 26% off sitewide. Yep, 26%, since Cyber Monday was November 26. Sure, that extra 1% won't mean much financially to shoppers, but it pop out in the inbox, and getting messages opened is essential on a day when eyeballs are at a premium.
What emails did you love over the Black/Cyber Weekend? Let me know at bnegus@accessintel.com.