Cyber Monday Breaks All Records; Mobile Plays a Huge Role
Another Cyber Monday is in the books setting a record for the biggest online shopping day ever, ringing up about $1.5 billion in sales, a substantial increase of 30.3%.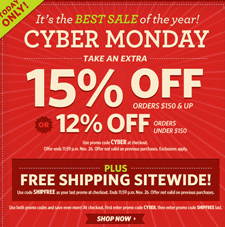 The biggest game changer came in the use of smartphones and tablets. More than 18% of consumers used a mobile device to browse retailer's websites, comparison shop and read consumer reviews, an increase of more than 70% from last year. The number of consumers using their mobile device to make a purchase was 10.1%.  Mobile sales reached close to 13%, an increase of more than  96%.
The iPad continues to drive more retail shopping than any other device with traffic reaching more than 7% versus 6.9% and 4.5% for iPhone and Android respectively, according to the IBM Digital Analytics Benchmark.
Retailers' efforts to encourage viral sharing by including share links at the end of online purchases and other methods struck out. Shoppers referred from social networks only generated 0.41% of all online sales on Cyber Monday, a decrease of more than 26%.
"Combined with retailers offering great deals and promotions, consumers are feeling good about spending this holiday season," Jay Henderson, strategy director, IBM Smarter Commerce, said. He also shared five marketing tips based on trends and research from the Black Friday weekend gleaned from the IBM research.
Even before Cyber Monday set keyboards a clickin' spending records were being set. Some $13.7 million had been spent online, marketing a 16% jump compared to the same time last year. Black Friday saw the heaviest online spending day to date this year hitting just over $1 billion in sales for the first time, a 26% increase versus Black Friday 2011. Even on Thanksgiving Day people kept those keyboards humming as cranberry sauce simmered, ringing up $633 million in online spending, a 32% increase, the NRF reported.
"We've seen interesting trends," Henderson said. "The average order value is actually down this year and the average number of items is down a little. The implication is that retailers are offering better deals and lowering minimums for free shipping. That's causing people to not buy quite as much, but overall the end goal is being accomplished, more people are shopping and shopping with greater frequently to take advantage of the deals."
This led to a drop in average order value by 6.6% to $185.12. However, the average number of items per order increased 14.1% to 8.34 compared to Black Friday.
On Cyber Monday consumers chased those one-day only deals that retailers had ready and waiting, with Amazon.com being the top online destination. And Lands' End recorded 24,000 orders in just one hour. About 85% of online retailers were expected to run special promotions yesterday up from 78.4% last year. Retailers spoiled customers with gifts of coupons and percentage off their purchases (47.1%), limited time promotions (26.5%) and other online specific promotions (29.4%). The most attractive promotion, however, was free shipping without conditions offered by 44.1% of retailers, up significantly from 12.5% last year. Another 29.4% were expected to offer free shipping with conditions.
Some 129.2 million shoppers were projected to shop online Cyber Monday up from 122.8 million who shopped last year and the 106.9 million who shopped on Cyber Monday in 2010, according to a survey for Shop.org by BIGinsight.
"Retailers have honed and improved their websites, mobile sites and social media outreach to be better than ever," Shop.org Executive Director Vicki Cantrell said.
A record 247 million shoppers visited stores and websites over Black Friday weekend, up from 226 million last year. The average holiday shopper spent $423 over the weekend, up from $398 last year. Total spending reached an estimated $59.1 billion, compared to $52.4 billion last year, according a NRF survey conducted by BIGinsight. (Black Friday 2012 Sales Trends)
While this Cyber Monday and Black Friday weekend may now be on record, there are still plenty of holiday shopping days left to go that retailers are planning for. The strategy is to maintain a robust calendar of deals, promotions and flash sales.