Cracker Barrel Builds Database with Sweepstakes
Cracker Barrel Old Country Stores is offering people a host of digital and in-restaurant ways to play its latest sweepstakes for a chance to win one of four vacations or hundreds of other prizes.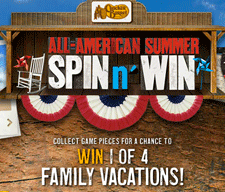 The "All-American Summer Spin N' Win Sweepstakes" runs through Aug. 15 and can be found at a dedicated website. Anyone who registers automatically gets five wheel spins as an incentive to encourage game play and a way for Cracker Barrel to build its consumer database. And, players, who agree to receive marketing emails earn a $5 digital gift card and some additional wheel spins. In stores, people can use their wireless device to scan a code on promotional materials that is then entered at the site.
Once at the site, players click the spin button to move around the game board and collect game pieces. Trivia questions are posted each weekday for chances to win additional wheel spins with correct answers. For every wheel spin earned, registrants have a chance to earn a game piece. Once all of the game pieces are collected from a particular set they can be entered into the drawing for a chance at that prize.
The four grand prizes include trips for four to the Grand Canyon, Captiva Island, Washington, D.C., and Nashville. Second prizes are a $1,000 gift card for gas or a $1,000 Cracker Barrel gift card. Third prizes include Cracker Barrel gift baskets with assorted merchandise plus a $500 Cracker Barrel gift card or porch set comprised of two rocking chairs, cushions and a matching end table.
Players can also earn wheel spins by liking Cracker Barrel's Facebook page and following Cracker Barrel on Twitter.