Belmont Savings Creates Community with Customer Acquisition Campaign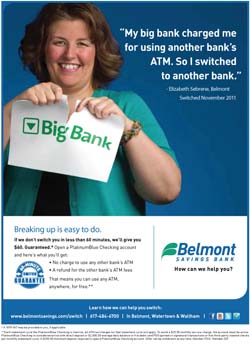 The Boston bar in the TV show "Cheers" was a place where everybody knew your name. Another Massachusetts institution, Belmont Savings Bank, is hoping that personal touch will help entice new customers away from mega-competitor Bank of America.
In June, the 127-year-old community bank, which has five branches and over 5,000 customers, launched a new print and TV campaign that shows customers ripping up the logos of "Big Banks" and saying things like "My big bank made me feel like a number. So I did a number on them and switched."
"The idea is to offer the products and services of a larger bank, with the level of service of a community bank," says Hal Tovin, executive vice president/COO.
"We want people to feel good about Belmont as a friendly alternative to larger banks," says Ann Toomey, director of strategic planning with Partners + Simons, which helped develop the campaign.
Over the last 18 months, Partners + Simons has worked with the $700 million+ mutual savings bank to reposition it in the local market, redesigning the bank's logo and boosting its community presence.
A particular target audience for the campaign is parents with children in the public school system. "People often move to a town to be in a good school system, so the message of putting down roots and being part of a community resonates with them," says Toomey.
The bank took several steps to compete with Bank of America and other large institutions: It created a supermarket branch for more customer convenience; changed the basic product line to be more competitive; created new checking products; and began covering ATM fees at other banks for its customers.
The new campaign also promotes the bank's "60 minute switch guarantee," designed to entice new customers who might be worried about a time-consuming, hassle-filled experience if they were to switch accounts to Belmont from their old banks. Belmont even keeps clocks on their branch representatives' desks so customers can keep track of how long the process is taking.
"The hardest thing to get people to do in retail banking is to switch banks," says Tovin.
Print ads will run in local newspapers and metro west editions of The Boston Globe. Cable television spots are being used as opposed to radio because of the ability to better target geographically. "We can't make the dollars work in radio, so there's too much waste," he notes.
Online, the bank will also sponsor page takeovers on sites like WickedLocal.com's sports page to get consumer attention.
Down the road, direct mail may also be incorporated. "We'll see how the campaign launches and the reception we get," says Tovin.
The bank is also getting involved in the community by having a presence at over 50 local events annually, like Belmont's Town Day, the Waltham, MA Riverfest and the annual sheep-shearing festival at Gore Place, also in Waltham. "And whenever we go to an event, we take pictures and post them on Facebook," he says, noting that the bank has a social media coordinator to help it both prospect and build existing customer relationships online.

Email addresses are being collected at local events, and the bank does separate weekly email blasts to customers and prospects. "It helps us start a dialogue," says Tovin. "With today's technology, people see that they don't have to stay with a large bank."
The campaign's ROI will be judged based on the number of new accounts opened, as well as the awareness of the Belmont Bank brand.