2012 PRO Award Winner: Turner Broadcasting Ad Sales for AT&T
To introduce AT&T's audience to 4G, the telecom giant partnered with TBS and built its second annual promotion around the Conan Blimp coinciding with coverage of the 2011 Major League Baseball playoffs.
TBS created 20-second custom spots to promote the return of the Conan Blimp, again powered by AT&T. The spots highlighted new Blimp features and aired during Conan and at other times on TBS through October during major league baseball playoffs. Digital executions to engage Conan Blimp fans included the upgraded Blimptracker, a foursquare badge and the opportunity to get tweets and special messages from inside the Blimp.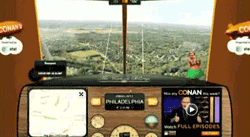 On Tuesday, Oct. 11, Conan announced, the "Blimp is back" and promised one lucky fan from the audience a "Blimptastic" experience in St. Louis, where they would get to ride in the blimp. On Thursday Oct. 13, Conan shared blimp photos from Jordyn, the winner, and had a conversation with him on-air via his AT&T-powered phone.
The custom co-branded AT&T/Conan Blimp-MLB spots drove viewers online where they were given exclusive content for use on AT&T channels, including a series of monthly digital stunts to connect/interact with Conan fans. There was also a presence on teamcoco.com.
The promotion generated a 44% increase in campaign brand recall vs. 35% for the 2010 version of the same campaign. Ad recall was 64% compared to the typical 49% for AT&T. The call to action generated a 62% intent to switch to AT&T vs. AT&T's baseline.
The buzz generated 25 million impressions; 90% of opinions were positive; 40% of campaign buzz was driven by foursquare check-ins. Overall, AT&T brand recall increased; the Blimp helped elevate AT&T's brand opinion and the cross-platform campaign sparked call to action.