2012 PRO Award Winner: Arc Worldwide/ Leo Burnett for McDonald's
McDonald's was – and still is – the fast food category leader, outpacing the competition in both taste and sales. However, since 2007, consumers have been cutting back on fries. Fifteen percent of McDonald's customers were ordering fries less often. At the same time, key competitors like Wendy's (with its sea salt fries) and Burger King were increasing their bid for market share.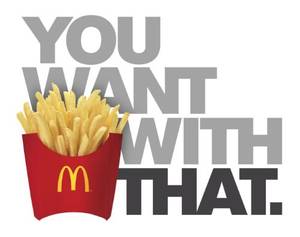 Even so, Zagat's Fast Food survey ranked McDonald's as having the number one fries in 2011. McDonald's decided to invest in its existing relationships and remind, rekindle and reward people's passion for McDonald's fries by getting them to associate McDonald's fries not just with burgers and shakes, but with all their favorite moments in life.
Agency Arc Worldwide/Leo Burnett changed "You want fries with that?" from a question to a statement, with "that" being attributable to anything a customer wanted. The phrase was integrated into signage and media in-store, out-of-store and online. Through Twitter and Facebook campaigns, as well as messaging on McDonald's fries packaging, a simple proposition was proposed to consumers: Tell us what you want McDonald's fries with, and you could win $25,000 to make it happen.
Consumers were driven online or onto their mobile phones to fill in the blank ("You Want McDonald's Fries With __________.") with their ultimate McDonald's fries experience. From a Caribbean vacation to a daughter's tuition to a friend serving overseas, a flood of inspiring entries was received. To keep people interested, hundreds of $50 Arch Cards were awarded weekly.
After consumers entered the contest, they could share their "want" on Facebook and Twitter, prompting more entries from their social networks. A trending Twitter hashtag, #wantfrieswiththat, was also created, inciting more word of mouth and thousands of submissions.
The contest received 270,000 entries and generated more than 120,000 online searches for McDonald's fries, a 37% increase vs. the previous year, and more than 17,000 tweets for McDonald's fries, with 95% being a positive/neutral conversation on the #wantfrieswiththat hashtag. Overall, the promotion generated a 4% lift in fries sales year-over-year.